This post may contain affiliate links. Read my disclosure policy here.
I can't get enough toning!
Do you know what I wear around my house all day long instead of slippers?
And now I'm so excited that Crocs has launched crocs tone™ so I can sneak in some extra toning as I run around my house chasing after my little munchkins.
(They have four different styles… which do you like best? I think the flats are the cutest and will look great with skinny jeans, and I think I may also get the clog style for wearing all day long around my house.)
Their Clever App on Facebook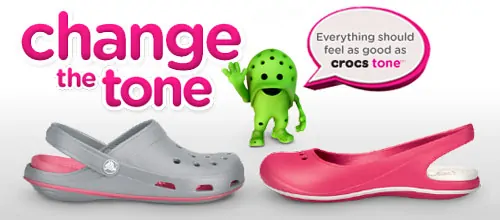 For some fun in spreading the news about their new crocs tone™ line, the folks at Crocs created a fun "Change the Tone" Crocs Facebook application. The app takes negative news headlines and put a positive spin on them.
I love seeing companies try out unique promotional ideas on social media sites like Facebook. Bravo Crocs!
See Them In Action
Check out this video, it shows the styles and explains how they work…
Win A Pair
Now, I bet ya' want a chance to win a pair, right?
Okay, so check out the Crocs Facebook app and see how Crocs has changed the tone of negative news headlines to positive headlines.
To Enter To Win A Pair
Roll over the headlines and see how Crocs changed the tone.
Get creative and take one of those headlines, and spin it your own way.
Tweet out your version of the headline and add the hashtag #changethetone
Leave a comment here telling us your new headline too.
But be quick!
I think they're taking the Facebook app down on Thursday March 10, so we'll be announcing the winner on Friday.
Disclosure: This giveaway post is sponsored by Crocs.
Written by 5 Minutes for Mom co-founder Susan.
To ensure you don't miss any upcoming posts, sign up for our RSS feed.