This post may contain affiliate links. Read my disclosure policy here.
As moms, we sometimes ask for a little space, but I don't think Mars is quite what we have in mind!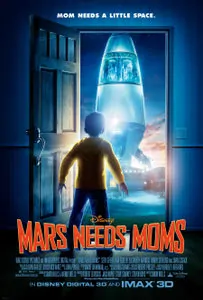 On March 11th, moms can enjoy a little earthly time out with their families thanks to Disney's newest release, Mars Needs Moms.
Take out the trash, eat your broccoli—who needs moms, anyway? Nine-year-old Milo (Seth Green) finds out just how much he needs his mom (Joan Cusack) when she's nabbed by Martians who plan to steal her mom-ness for their own young.
With the help of a tech-savvy, underground earthman named Gribble (Dan Fogler) and a rebel Martian girl called Ki (Elisabeth Harnois), Milo just might find his way back to his mom—in more ways than one. The IMAX release will be digitally re-mastered into the image and sound quality of The IMAX Experience with proprietary IMAX DMR (Digital Re-mastering) technology.

Mars Needs Moms was produced by the team behind "Disney's A Christmas Carol" and "The Polar Express," and is based on the book "Mars Needs Moms," which was written and illustrated by Berkeley Breathed, a Pulitzer-Prize winner for his comic strip "Bloom County."



To celebrate the opening we have an 'Out of this World' IMAX Prize Pack to award one lucky reader.
Package includes:
1 Mars Needs Moms: An IMAX 3D Experience poster
1 copy of the Mars Needs Moms! book written by Berkeley Breathed
1 Mars Needs Moms: An IMAX 3D Experience youth t-shirt
A family 4-pack of IMAX tickets
Entering is easy. Leave a comment below and let us know where you most like to go when you need space. This giveaway is open until Friday, March 11th. We will announce our winner on Saturday, March 12th.

Thank you IMAX for providing us with an exciting prize pack for our readers, as well as IMAX tickets for our team to check out Mars Needs Moms.