This post may contain affiliate links. Read my disclosure policy here.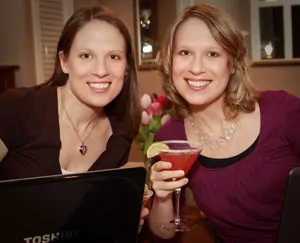 Okay Ladies, here it is… the dates for the 5th Annual Ultimate Blog Party at 5 Minutes for Mom…
April 1 through April 8
Mark your calendars.
But don't worry about booking plane tickets, hotel reservations, or calling babysitters, because this party comes to you right where you are at… online!
If you're not sure what the Ultimate Blog Party is all about, here's a video with some of our blogging buddies last year explaining the "What, Who, Why and When" of the Ultimate Blog Party.
So if you want a little more back story…
In 2007, Janice had this crazy idea to start something she called a "blog party" where Mom Bloggers would link up and "party" together in a blog carnival style, visiting each other's sites and getting to know one another.  Almost 1000 bloggers joined in and the annual Ultimate Blog Party was born.
It's funny to think back to 2007… it feels like ancient history in the blogosphere's timeline. But together with you — our fabulous community — we created a groundbreaking event with the first "Blog Party" of its kind (that we know about.)
And you mom bloggers know how to party… each year the UBP gets bigger and better…
In 2008, the UBP had over 1500 bloggers participating and in 2009, over 2000 bloggers participated, and in 2010 the number passed 2300 bloggers partying with us.
And it just keeps growing,. The Ultimate Blog Party has not only grown in participating blogs (hitting more than 2300 blogs in 2010), but it has also "grown" in the variety of ways online "partiers" are connected in real life events — from live personal concerts featuring recording artist Chris Mann to webcast chats.
Thank you to everyone who participated in our Ultimate Blog Party – What, Who, Why and When video. We had so much fun putting it together and catching glimpses of your lives.
What's Next
We'll be posting more soon about how you can join the party… but for now, flip your calendar to April 1 through April 8 and plan to party online with us and the rest of the fabulous mom blogging community.
You can get in the party mood and start thinking about what you'll include in your 2011 "party post" by visiting some of the party posts from previous years.
UBP 2007
UBP 2008
UBP 2009
UBP 2010
We will be publishing Ultimate Blog Party buttons and banners that you can include on your blog to invite your readers to party with you.
The Ultimate Blog Party is all about you and this awesome community of bloggers. We are honored to host it and we're looking forward to partying with you April 1st through 8th.