This post may contain affiliate links. Read my disclosure policy here.
I remember my first experience with Baby Einstein…
Jackson was about one year old. He was my first child and I still clung to my idealistic parental aspirations – no TV, no sugar, etc. (It is amazing how some of those plans can stick for quite awhile when you only have one child. The first sugary thing Jackson ever tasted was his cake on his first birthday – which he hated and I had to give him canned peaches instead.)
But at about twelve months old, my incredibly happy, fun baby went through a painful teething stage. He was fussy and miserable and he wanted mommy to carry him all.day.long. I had to feel for the little guy. His mouth hurt. And he was cranky. And he didn't know why.
One day, in complete despair, I reached for the Baby Einstein DVD that Susan had bought Jackson months before. I dropped it into the player and collapsed on the couch. Within seconds, Jackson was captivated. His teething pain dropped out of the picture, replaced by puppets and classical music.
Sitting on that couch, watching my son laugh and interact with his "friends" on the TV screen, I decided that maybe a little bit of TV was okay. I mean if my mouth hurt and no one could tell me why, I would sure like some dancing puppets to come soothe and entertain me. And maybe – just maybe – mommies need dancing puppets too.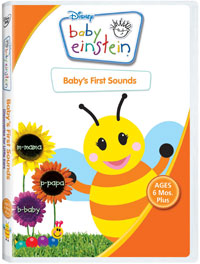 Now, six years later, Olivia is quickly growing up. At over six months old, (I have lost count on the actual weeks,) she is about ready to meet Baby Einstein. Up until now, she has only visited with Elmo once on a Sesame Street DVD and she thought he was just fabulous!
So when Disney sent over their new Baby Einstein DVD, Baby's First Sounds: Discoveries for Little Ears, I was definitely intrigued. I wondered if Olivia would love Baby Einstein like Jackson did.
Olivia is a lot younger than Jackson was when he first watched Baby Einstein, so her attention span is shorter than his was. But she is definitely intrigued by the engaging, musical show. At her age, of course I am not going to be plunking her down in front of the TV to watch for an extended period of time. But a short little visit with some Baby Einstein characters is definitely a fun treat.
If you think your baby – and you – could use some dancing puppets, check out Baby Einstein's new Baby's First Sounds DVD that is available now.
For a sneak preview, here is a clip in 500k Quick Time and in Macromedia Flash High Bandwidth
Baby's First Sounds: Discoveries for Little Ears engages little ones' interest by first exposing them to the common sounds from around the world. Each sound is then said out loud several times to encourage little ones to repeat what they hear and to join in the fun. In addition to introducing first sounds, Baby's First Sounds: Discoveries for Little Ears incorporates familiar songs, such as "Twinkle, Twinkle Little Star" and recognizable nursery rhymes, including "Humpty Dumpty" and "Hey Diddle, Diddle," to encourage parents and little ones to sing out loud together.

The DVD also includes bonus features that further emphasize parent-child interaction. Designed to provide caregivers
with tips on how to engage and interact with baby around the theme of "first sounds," the bonus features include "Fun With Phonemes" where Baby Einstein puppets introduce little ones to the sounds of the world and feature real-world images that correspond to the sound heard on screen. Baby's First Sounds: Discoveries for Little Ears is recommended for little ones age six months and up.
If you want to win a copy, leave a comment at this post. We have three DVDs to giveaway.
We will announce the winner on May 14th. (This contest is open to BOTH Canadian and US shipping addresses.)