This post may contain affiliate links. Read my disclosure policy here.
Are you scratching your head after reading the title?
I don't know about you, but just hearing the word lice makes me start itching.
The folks at Lice MD sent me a sample, and in the case of this review, I'm proud to say that I have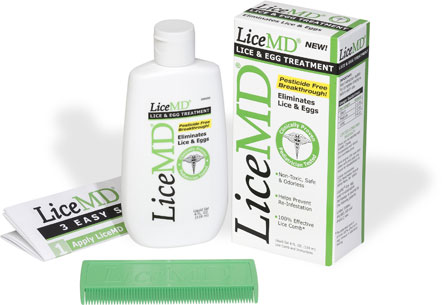 n't used it yet. We had a lice infestation at our church last year, and several of my friends were plagued with the little bugs. I checked both of my children regularly and managed to escape, but I still live in fear of the parasite.
I'm happy to have this on hand in the event that we find eggs or bugs.
What makes Lice MD different?
Lice MD offers a pesticide-free alternative to treat your children that eliminates lice, eggs, and nits. It is safe for use in children as young as two. It's odorless. It actually super-conditions hair. Because it's pesticide-free, it can be repeated as often as necessary, which is often key in avoiding reinfestation.
I wouldn't wish the plague of lice on anyone, but the truth of the matter is that most of us will have to deal with it at some time or another during our children's school years.
Would you like to win one of 5 boxes to have on hand just in case? Leave a comment here and we'll draw the winners on April 30.
In the meantime, look for Lice MD wherever lice treatments are sold. . .and stop scratching!