This post may contain affiliate links. Read my disclosure policy here.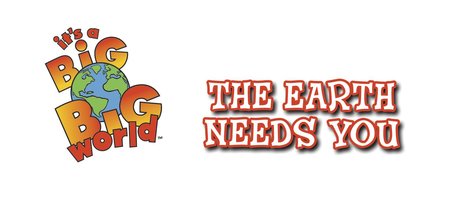 It's Earth Day, and thanks to my kids, I remembered it.
The art project my three-year-old brought home from preschool was a tree. When he heard one of the children's TV shows we were watching mention Earth Day, he said, "That's today. We learned it at school."
My nine-year-old daughter is always turning off extra lights in our house, while talking about global warming and conserving energy.
It gives me hope to know that our children are growing up with a natural concern for our planet.
Children's media is largely responsible for this. I've reviewed a couple books which educate children about conservation. The show "It's a Big, Big World" invites children to join in the adventures of Snook, the charismatic sloth who lives in the World Tree with his colorful animal friends. Together they investigate the world around them and discover how different things live, grow and change.
The Earth Needs You DVD focuses on issues such as reusing and recycling. Click HERE to see an exclusive clip that might inspire your kids–or you–to clean up for good!
We have five DVDs to give away.  Leave a comment to enter.  We'll draw the winners on May 1.