This post may contain affiliate links. Read my disclosure policy here.
This is My Planet: The Kids' Guide to Global Warming is the kind of book that calls to a child to flip through it. The red cover (and red pages with text boxes and pictures inside) are lively and fun. The information presented in a factual way includes an overview of our planet, how weather works, how changes in our climate affect the oceans and polar caps, and finally what we can do about it.
After reading it, my nine-year-old daughter went around switching off unnece

ssary lights saying, "Global warming, Mom!" I was thinking more about the high cost of electricity, but whatever the motivation, this book is a good overview for kids age seven and up that feeds into the sense of responsibility for our earth that most of them seem to have.
The World Atlas for Young Explorers has what you have come to expect from a National Geographic book. The pictures are dramatic and evocative. The maps are detailed. The information is presented in a kid-friendly way, yet it's comprehensive. In fact, when my daughter's friend was over recently, she easily found some information for her fourth-gra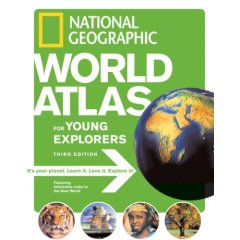 de class project on Japan.
Another feature perfect for our tech-savvy kids of today is that the book gives web links throughout, all of which can be easily accessed via a special website for the atlas to provide more information, video, or even a fun game. The website can be searched by topic or by book page.
Remember last month when I said that if you are giving a gift, a big book makes more of an impact? National Geographic World Atlas for Young Explorers is a big book — 11 by 14 inches. This would be a great gift for kids aged eight and up.
Books make great last-minute gifts! If you'd like ideas for preschoolers, school-aged kids, men, or women, click the 5 Minutes for Books category below and browse some of the books we've featured over the last seven months.
We are giving away one of each of these books to a U.S. or Canadian reader. Please leave a comment, indicating your preference, if you'd like to win. We'll post the winners next week in this column.
The winners of Can I Have a Cell Phone for Hanukkah? (a great parenting book for school-aged children, regardless of your religion!) are

#29 Dodo O.
#20 Shari
#26 Kristine
#41 Kristen
#31 Taryn