This post may contain affiliate links. Read my disclosure policy here.
Cousins, school-friends, church-friends, soccer-team friends.
The list goes on and on…
How many kids birthday parties do you have coming up this Spring? It seems like Jackson has a party to go to every other weekend!
It can add up to a lot of birthday presents to purchase.
Well, we're here to help… along with some help from Hasbro. They sent us a bunch of great gifts – all under $20 – to test out. And we have one of each toy to give away.
Jenga Pink Girl Talk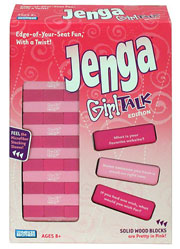 Our favorite toy from the bunch was the Jenga Pink Girl Talk.
This toy is brilliant. It's marketed towards girls aged 8 to 15, but we think it has an even wider appeal. Jackson — a 6 year old boy — loves it! He looks past the fact that it is pink and just enjoys the fun of Jenga plus the chance to ask each other questions. It gets us all talking and having tons of fun.
Janice, Jackson and Janice's friend Crystal played it together one night and had so much fun, Crystal told Janice to bring it on their upcoming weekend getaway! I also read a review where the blogger took it to an adult dinner party and they had a blast.
We just wish Hasbro made a 'Family Edition' that was geared towards questions for the entire family. Hopefully, they will add a more gender neutral edition to their line soon.
We've got one to give away, but if you have a girl aged around 6 to 15 and you don't happen to win it here, you definitely want to pick up Jenga Pink Girl Talk. It's priced under $20 and well worth it.
FurReal Friends
Another big hit with Julia was the FurReal Friends Newborn Duckling. Julia loves feeding the little duckling her bottle and watching her come to life.
Julia squealed with delight when she saw the white little FurReal Friends Teacup Pup. It's Buddy! (The name of her friend's little puppy.) The puppy is so realistic and the little purse is just so hip.
Both FurReal toys make affordable gifts to bring to a little girl's birthday party. You can see videos of the duckling and the tea cup pup here.
One lucky commenter will receive both a duckling and a teacup pup.
Littlest Pet Shop
Littlest Pet Shop Virtual Interactive Pets (VIP) let kids bring their stuffed animal friends to life online.
I love that you can even test out the VIP world for free by borrowing a pet from their adoption center. Check it out… I wish they had these when I was a kid.
And then there's a digital pen… I have to admit, this one is a little high-tech for little old me and has me a little intimidated. So I'll borrow the explanation from Hasbro:
This chunky pen features a digital on-screen pet that you can "feed," brush" and play on-screen games with! Set the pen's digital clock and your pet is ready to play! Take care of your pet and it will love to play games with you! Beat the high scores and unlock hidden games and surprises. Use the pen to write notes and secret messages to friends with the included paper and sticker sheets! There's even a TEENIEST TINIEST PET figure that sits on top of the pen! Remove it for your own pet-lovin' adventures!
Again both of these online-activated toys come in under $20 and make a terrific quick gift for one of your child's school-mates.
We have one VIP Monkey and one Digital Pen to give to one lucky commenter.
Transformers Robot Heroes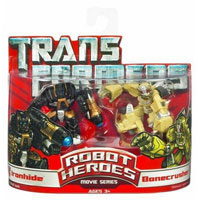 Boys will be boys. And boys will always love Transformers. (Heck, even Janice and I liked Transformers when we were kids… yes, we were tom-boys.)
These Transformer Robot Heroes are a good gift under $6 for a boy aged 5 or older.
Transformers seem to be a constant at all the birthday parties Jackson attends. And with the Robot Heroes series priced at $5.99 you could even use them to giveaway away as party favors. (Wow – wouldn't the kids go crazy to get those instead of candy in a loot bag!)
My Little Pony Ponyville Rollerskate Party Cake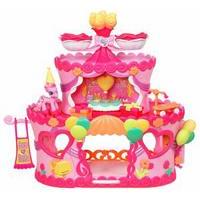 Julia is loving this My Little Pony Ponyville Rollerskate Party Cake.
She calls it a pony castle and plays with it like a little doll house. It comes with a tiny pony and two little birthday present boxes that actually open up. Julia likes to hide a goldfish cracker in each gift box and then have her pony open up the presents.
Baby Alive Newborn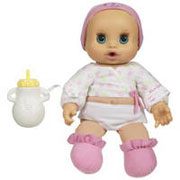 Little girls can never have too many dolls, so you can't go wrong picking up one of these sweet Newborn Baby Alive Sip 'N Snooze dolls.
She comes with a little bottle so your girl can feed her baby and watch her close her eyes and fall asleep.
This little doll is splendid gift for preschool girls and it costs under $15.
If you are interested in these toys, just remember to comment on this post and let us know which toy you'd like to win.
Enter to Win:
If you want to win, all the instructions about entering the "Two Weeks of Toys" Giveaways are included in the "Two Weeks of Toys" Giveaway post (including the code to put our "Two Weeks of Toys" Giveaway button on your site.)
But here is a quick run through:
Leave a comment on this post to be entered.
Post a link to this contest (it is always nice to let your readers have a chance to win too!) and/or link and post a button to our "Two Weeks of Toys" Giveaway post. (If you post the button and link to the "Two Weeks of Toys" Giveaway, you are qualified to enter in all the upcoming "Two Weeks of Toys" Giveaway contests. And we have two weeks of contests to come!) Non-bloggers are welcome too – we understand you can't link – but feel free to pass the word on to your friends.
(This giveaway is open to both US and Canadian shipping addresses.)
Good luck! And we will see you soon for our next "Two Weeks of Toys" Giveaway contest.