This post may contain affiliate links. Read my disclosure policy here.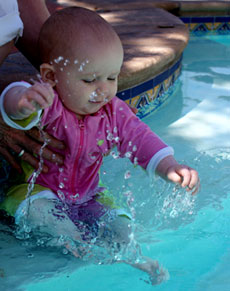 I could get used to life in La Jolla, California – especially life in La Jolla with Sony and 14 fabulous Mom Bloggers!
I literally had my DREAM trip. I got to:
Hang out with incredible women who share my passion for blogging
Discover three great Sony cameras
Learn from the most fantastic photographer, Me Ra Koh
And even squeeze in some snuggles and fun with my baby Olivia.
(The only thing that would have turned the trip into a taste of heaven on earth, would have been if my husband and son could have flown down on Saturday and we could have spent the next week enjoying California living.)
I have so much to share about this fantastic experience, that I will have to break it down into a few posts.
In this post, I will introduce you to the other bloggers and share with you a few photos. (I was so busy every second of the day, that I actually didn't get to take many photos. Ironic, eh? But, when other women were grabbing their cameras to shoot between sessions, I was grabbing my baby to nurse!)
In my next post, I will share with you about the three awesome cameras Sony was showing off to us, the Cyber-shot DSC-W170, Alpha DSLR-A350 and the HDR-SR11 High Definition Hard Drive Camcorder. They are the perfect cameras for moms – simple to use, intuitive design, great features, excellent quality, etc. If you are looking to improve your photos or are in the market for a new camera, be sure to read this upcoming post. I am totally impressed with what Sony has to offer.
After that, I will have a couple of special posts coming up featuring interviews and giveaways with Me Ra Koh and with Celebrity Wedding Photographer Robert Evans. (Robert photographed Tom Cruise and Katie Holmes' wedding and Brad Pitt and Jennifer Aniston's wedding, to name just a couple of his exciting clients.)

The highlight of my trip was learning from Me Ra Koh and I can't wait to introduce her to you. She is an incredible talent and a gifted communicator and artist. Her passion for photography – especially her perspective of a mother photographing her children – is so empowering and inspiring. Check out her site for sure. She is a rare and beautiful gem.
Getting to meet Robert Evans was a "cherry on top" at the end of my already fabulous trip. Me Ra was doing a photo shoot that was being filmed by Robert Evans and Curt Apanovich for their site PhotographyMentor.com and invited any of us who would still be in town to come and watch. I couldn't believe it! Everyone had already boarded their planes to go home or were otherwise booked up, so I was the only one from our group that went to watch. Robert and Curt were super welcoming and friendly and I got to observe not only Me Ra in action, but Robert and Curt in action too! I know – it is just mind blowingly cool!!!
Robert and Curt's new site, Photography Mentor is one of the most impressive sites and photography tools I have ever come across. Every photographer, amateur or professional, should take advantage of this resource. I wish I could spend every day devouring all it has to offer. Make sure you keep your eyes open for this upcoming post.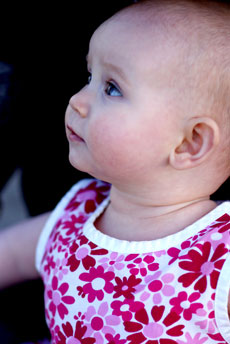 So – now for a few photos and to introduce you to the other bloggers who were there.
Olivia was one of the two babies in our group. And so they were the models for our photo shoot. Olivia was just a star!
She didn't mind in the slightest that she had a ton of cameras and strangers in her face clicking away. She smiled and flirted away and enjoyed all the attention.
(She was also an angel on the airplane. She slept most of both flights and was perfectly relaxed when she was awake. Oh… and if you're wondering how I managed with a baby there… I brought a sitter with me to look after Olivia while I was busy in the sessions.)
Olivia had quite the time hanging out at the pool with her sitter… I only got to sneak in a few minutes of poolside relaxation while I nursed.
As I said, hanging out with the other bloggers was as exciting as the cameras! Here is Stacy from MomCentral.com snuggling Olivia.
The women I got to know were:
Definitely click through and visit each of their fantastic sites.
I'll be back soon with more about the three awesome cameras.