This post may contain affiliate links. Read my disclosure policy here.
How many of you watched last night's Golden Globes? Were you happy with the results? Who gave the best acceptance speech? Who was your favorite presenter of the evening? Whose dress did you absolutely love?
I was able to tune in for a good chunk of the Golden Globes and was somewhat pleased with the results.
My favorite speech of the night by far was Chris Colfer's.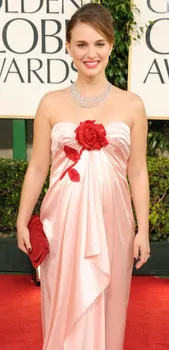 I had two favorite presenters. When Chris Hemsworth took the stage, my mouth dropped a little. He is quite handsome and has an Australian accent to boot. I think I have a new celebrity crush. Yes, I am certain that I am in love with Chris Hemsworth.
The most touching presenter by far was Michael Douglas. The response he received from the audience was very moving.
My favorite dress of the evening was worn by the stunning Natalie Portman. I loved her look last night. I must say, I did feel that her acceptance speech was a bit kooky, but since she is pregnant, I will let it slide. That poor thing must have been exhausted. I can't imagine what a busy day and evening that was for her.
Now it's your turn.
Written by 5 Minutes for Mom contributing editor Erica.