This post may contain affiliate links. Read my disclosure policy here.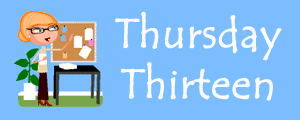 Banner by Chaotic Home
Jackson (my 4 year old son) and Julia (Susan's 15 month old toddler) are more than cousins. Genetically, since Susan and I are identical twins, they are half siblings. But, 'for real life', as Jackson would say, they love each other as much as any other siblings – and isn't that what makes a family?
And like many brothers and sisters, while they have a few similarities, they have many distinct differences.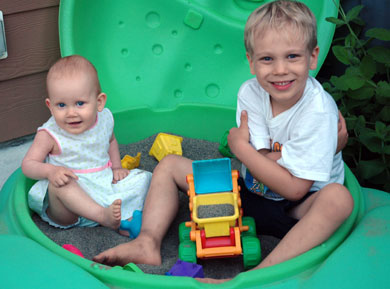 13 Similarities and Differences between Jackson and Julia
They both are fair skinned with blue eyes.
It's rather amusing that they both have blue eyes since all four parents have brown eyes.
They both adore each other.
Both are only children and are great companions for each other.
They're both extra attached to their mommies.
Until Jackson was two, he refused the church nursery and Julia is following in his steps. I hope her second birthday also brings a bit of independence.
They both love dancing with the Wiggles.
One of our tricks for distracting Julia when she's fussy is to turn on the Wiggles and Jackson gets on board entertaining Julia with his Wiggle Groove.
They both love to squeal in delight while playing their favorite game – Chase!
But sometimes their squeals cross the line to high pitch screams and we have to try to settle them down.
Julia has red hair, Jackson has blonde.
Julia doesn't yet have much hair at all, but the hair she has is red. Susan and I were blonde as children (our father was 100% Finnish.) Slowly our hair changed and now we are brunette, but Susan has hers highlighted blonde. Our maternal grandmother though had red hair and so does Julia's paternal grandmother.
Jackson is tall, Julia is tiny.
Jackson is incredibly tall – in fact we've never met a child his age that is as tall as he is. Julia is a lightweight. At 15 months, the little thing isn't even 20 pounds.
Julia is a natural climber. Jackson — Not so much.
At two he towered over any other toddler his size. Yet he wouldn't even climb out of his crib. I never had to worry about him climbing on anything. Julia is a little monkey already and we have to keep an eye on her constantly.
Jackson is a great eater – Julia is not!
When Jackson was born, they plopped him on my belly and he reached out his neck and started trying to suck. He started eating within seconds and has never slowed down. Feeding Julia has always been incredibly frustrating.
Julia is serious. Jackson laughs all the time.
Even as an infant, Jackson would constantly be cracking his big smile and entertaining us with his infectious laugh. Julia however is very serious and observes quietly. She only gives a big belly laugh when tickled or chased or when playing with Jackson.
Jackson never stops talking. Julia hasn't started.
Jackson stuns everyone he meets with how advanced he is verbally. He started talking at 9 months old and at 18 months had a vocabulary of well over 150 words and was talking in little sentences. At 2 he spoke completely fluently, without a hint of baby talk.

(Combined with the fact that he was the height of a four year old, this caused a few problems. I considered putting a sign on him saying, "Give me a break – I am two!")

Julia however, is not talking other than the usual mama sounds etc. It was so handy to have Jackson communicating at this early age, but with Julia we have to try to guess what she is thinking.

Jackson was an easy baby, Julia is fussy.
When Julia goes out, everyone ooohs and ahhhs over how quiet and well behaved she is. She doesn't say a peep and sits in our arms, watching everything go on around her. BUT, get the monkey home and she's a handful. She has an unfortunate tendency to fuss – a lot! Some days it can drive us a little batty.

Jackson on the other hand, was a happy, easy-going baby. He didn't start to be a real handful until he could walk. Now – he keeps us hopping!

Julia is a GIRL and Jackson is a BOY.
I know this is obvious, but it is so interesting to watch how different they are because of their gender.

Julia seems to be very much a little girl already, primping herself and admiring her "pretty" dresses. She is obsessed with shoes, sunglasses and hats and loves to look after her dolls. And she sits still and concentrates on activities like coloring.

Jackson is 100% boy – with all the testosterone you can get! Allergic to the color pink at birth, he has never gravitated to anything remotely feminine. He loves Star Wars, superheroes, action figures and knights – basically anything "fighting." He is in constant motion and still will rarely sit down to color. The crafts he likes are messy and involve gluing, paint or cutting – and it can only last for about five minutes.
Get the Thursday Thirteen code here!
The purpose of the meme is to get to know everyone who participates a little bit better every Thursday. Visiting fellow Thirteeners is encouraged! If you participate, leave the link to your Thirteen in others comments. It's easy, and fun! Be sure to update your Thirteen with links that are left for you, as well! I will link to everyone who participates and leaves a link to their 13 things. Trackbacks, pings, comment links accepted!
View More Thursday Thirteen Participants