This post may contain affiliate links. Read my disclosure policy here.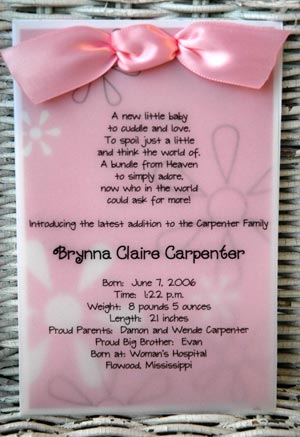 So you would love to do it yourself…
Handmade cards add such an elegant touch.
But life is just too busy. The baby is crying and the blog is waiting. Or maybe you just aren't in the mood to trek out to the scrapbook store, buy the supplies and then plant yourself at your table and make cards for three evenings in a row.
Well, fellow mom Susan Stemple wants to help! Sweet-Pea-Creations, one of the mom-owned stores featured here at "5 Minutes for Mom", specializes in custom handmade birth announcements, adoption announcements, baby shower invitations, baptism or christening invitations, and matching note cards.
Susan sent me some sample cards and they are beautifully done. You will be so proud to send them out (or give them as a gift to a new, weary mom!)
And don't forget to check out our shopping directory and help support work at home moms.