This post may contain affiliate links. Read my disclosure policy here.
Twas the night before Christmas, when all through the land
Each child dreamt of gaming, no controller in hand
Xboxes were wrapped and waiting under the tree
Parents slept soundly knowing their time would be free
Tomorrow the children would be up off the couch,
With Kinect in the house, there'd be no time to slouch
And Mamma and Pappa could get in on the game
All for the good, family time would ne'er be the same
….
Yikes, can you tell that it's 4:30 am and I've been playing Santa and wrapping gifts all night?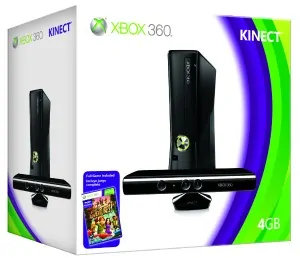 As I cut and taped, I couldn't help but think how many parents must have wrapped up an Xbox 360 with Kinect. I bet it's one of the most sought after gifts this holiday season.
But with that thought, I couldn't help but think how I wish every family could afford one. I truly think this unique new gaming platform can bring parents and children closer together as they have fun and get active as a family.
The more opportunities kids and their parents have to play together, the better. And I love seeing technology add positively into the mix.
Of course we wish we could give each of you an Xbox 360 4GB Console with Kinect, but well… we don't wear red suits and certainly haven't any flying reindeer, so the next best thing is a GIVEAWAY!
Yes, we can give one of you lovely readers an Xbox 360 4GB Console with Kinect!
If you think your family would benefit from some moving and shaking Kinect style, leave us a comment and tell us why you wish you'd had a Xbox 360 with Kinect under YOUR Tree.
Oh and in case you haven't heard ALL about why Kinect is so awesome, here's the score…
Xbox 360 4GB Console with Kinect

The new Xbox 360 4GB console with Kinect has built-in wi-fi, a black wireless controller, a standard definition composite A/V cable, a Kinect Sensor, the Kinect Adventures game, and even comes with a free one-month Xbox LIVE Gold Membership.

Kinect brings games and entertainment to life in extraordinary new ways—no controller required. Easy to use and instantly fun, Kinect gets everyone off the couch moving, laughing, and cheering. See a ball? Kick it. Control a HD movie with the wave of the hand. Want to join a friend in the fun? Simply jump in. Wi-Fi is built-in for easier connection to the world of entertainment on Xbox LIVE, where HD movies and TV stream in an instant. Xbox 360 is more games, entertainment, and fun.

Price: $299.99

About Xbox LIVE Gold Family Pack

For $US 99.99, you'll get four Xbox LIVE Gold Memberships for the price of two. The Xbox LIVE Gold Family Pack includes:


Family Center, an easy to use destination for Family Settings and account management, which will be accessible to you on the Xbox dashboard. While Family Settings are available to all users, you must have an Xbox LIVE Gold Family Pack Membership to access Family Center.
Simplified billing that applies all purchase charges to the primary account holder's billing account and the ability to authorize purchases, helping to manage the family's entertainment budget.
The primary account member has the ability to purchase and dispense Microsoft Points allowances to secondary Xbox LIVE Gold Family Pack members on the account.
Activity monitoring reports viewable on Xbox.com to help encourage discussions about safer more balanced gaming and entertainment habits.
Exclusive discounts on family-friendly games and other content on Xbox.com.


Xbox 360 Family Settings are being taken to the next level this November. It's Microsoft's goal to provide parents and caregivers with tools and resources to manage their children's gaming and entertainment experiences, and these features are available to all Xbox LIVE members:

Family Programming that removes all mature games, movies, and content from the dashboard, based on ESRB, Motion Picture Association of America (MPAA) ratings and the TV Parental Guidelines system . Family Programming is password protected, and easy to turn on and off for each member. (Compatible with international ratings systems.)
Title exceptions – the ability to allow your family members to play specific games above the console's designated ESRB rating if you deem appropriate. (Compatible with international ratings systems.)
Intelligent default settings for Child, Teen, and Adult profiles. Xbox will automatically assign default privacy and activity settings for each member that can later be individually customized.
Family Settings are displayed prominently in the My Xbox channel. Current tools include the Family Timer, which allows you to control the amount of time – either daily or weekly – your children may use the console.


Visit www.GetGameSmart.com for a new video and simple guide on safer gaming with Xbox 360 and Kinect, or download step-by-step guides for how to set up Xbox 360 Family Settings on the console.
Wanna Win It?
We're giving an Xbox 360 4GB Console with Kinect away!
If your family didn't get a Kinect from Santa this year, leave us a comment and tell us why you wish you'd had a Xbox 360 with Kinect under YOUR Tree and you might get us sending you one!
This giveaway is open to BOTH US continental shipping addresses AND CANADA (Yay!) and closes on January 7th. We will announce the winner on Saturday, January 8th, 2011. This giveaway is void where prohibited. Please see our site's terms and conditions for our complete contest rules.
(Hey Canadians, did you catch that? You get to enter, eh!)
Please Note: Janice was provided a review sample. Our opinions are always 100% our own!
Written by Susan Carraretto, co-founder of 5 Minutes for Mom.
Talk with us: @5minutesformom and Facebook.com/5minutesformom.