This post may contain affiliate links. Read my disclosure policy here.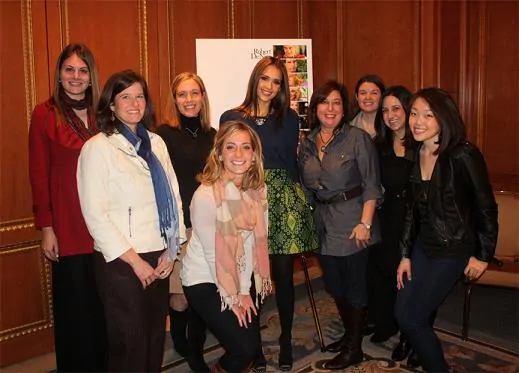 Over the last couple of years, I've interviewed and met quite a few celebrities, which is not anything I ever thought I'd be doing. But time and time again, when I sit down with them, I find that in many ways, they are just like me. Okay, they look incredibly fabulous and glamorous, and I do not, but when I'm just talking to them, it doesn't often feel that different from hanging out with my friends.
For example, Colin Baiocchi, who plays Henry in Little Fockers seems very smart and has a personality bigger than life, just like my son who is about his age.
Jessica Alba is a newcomer to the Little Fockers franchise, playing Greg's co-worker, and I asked her how it was working with a cast who had already been together for two years.
Her very dry sarcasm came out immediately as she answered, "Well you know, they're not really experienced actors."
And when asked about her on-screen dance with Dustin Hoffman, the sarcasm continued: "I've never seen Tootsie before. It wasn't one of my favorite movies of all time."
She summed up the experience of working with the fabulous cast of Little Fockers this way:
It was so actually completely intimidating that I had to just pray to God I wasn't going to get fired and (just) have fun.
She said that's a lesson that motherhood has actually taught her. She tries to live in the moment because everything else is so secondary, and like toddlers tend to do, she tries to just have fun and have a good laugh.
When I think of Jessica Alba, I don't necessarily associate her with any particular role, but just as a super-hot babe. She plays that type of role in this movie, but in real life, she's a mom. When she talks about her daughter, she has the same worries and concerns that most of us have — the effect the media has on her, seeing her be sad and disappointed, dangerous chemicals from plastics, and balancing work and family.
Having a child has changed everything for her, and put it into perspective. Before, she was willing to work 12 months and a year and rarely sleep in her own bed, but now she is more selective about the roles she takes and when she works:
So, if I don't spend time with her, especially now, until she goes to school, it has to be worth it, and it has to be something that I'm passionate about. And it can't be too time-consuming, because I don't want to miss her saying funny things and learning how to ride a tricycle or getting excited about a Barbie doll, such as when she's telling me about Ariel, even though she's never seen the Little Mermaid.
She summed it up by saying, "When it's all said and done, who cares if you have a great career or if you've been in this or that movie. It's, 'What experiences did you have and what relationships are important to you?' And that's more important and what life is really about."
What better time than the Christmas season to think about our relationships with our loved ones. They can be sticky, but hopefully just like the family in Little Fockers, we can get some comic relief and learn to appreciate one another for who we are.
Little Fockers is in theaters today, December 22. Be sure to check out my interview with the kids in the movie, and enter for a chance to win a $50 Fandango movie bucks card!
**Disclosure: Universal Studios invited me to attend the junket and paid for some of my lodging expenses, and I was asked to share the interviews with the readers. My opinions are my own.