This post may contain affiliate links. Read my disclosure policy here.
He is three weeks shy of his ninth birthday. I can't believe we made it this far.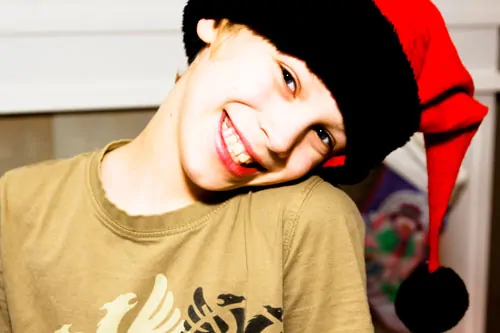 I never believed.
Susan and I had older siblings who must have told us when we were still in our cribs, because I don't recall ever believing in Santa, The Tooth Fairy, The Easter Bunny, or any other form of magic.
At seven, in complete shock that anyone actually believed in Santa, I told my six year old friend in car pool that there was no such thing as Santa, Fairies, or chocolate toting Bunnies. And to this day, I remember the look of pure fury her mother shot in my direction as I ripped her daughter out of her innocence and threw her, tear streaked face and all, into "real life."
And if it weren't for peer pressure, (one cousin can't not believe!) I would probably never have told my son that Santa was real. (Although, in a court of law, I don't think I have ever said the word "real" in reference to Santa.)
But I did go along with the Santa traditions, trying my very hardest to downplay Santa and play up Jesus! And because his older cousins still steadfastly believed, Jackson's faith in the red-clothed fellow has remained.
The last few years though, Jackson has had serious doubts — keep him up at night trying to decide kind of doubts. And he has asked me, no grilled me, if Santa exists.
I simply replied, "What do you think?" And he would start rambling out the strong case for Santa's nonexistence, but still remain on the fence, stuck between belief and logic.
The other day though, I sensed the fun was over. Jackson was tormented not knowing for sure. And if you know my son, you can imagine the stress this was causing him.
I looked him in the eye and made him promise to keep the magic alive for his little sister and his cousins. I told him about how I never got to believe because of my siblings.
And then I told him.
And then I panicked.

I wanted to take it back! I wanted him to be three years old again. I didn't want it to all be over.
But he was ready. He needed to know. And he is now beaming with pride about being "in on the magic."
He wants to help me stuff the stockings, (I said no.) And he is still keeping up the Santa love for the little girls.
This weekend, when we had Santa Calls for Olivia, Julia, and Sophia, Jackson went along with the fun. He hasn't let it slip at all.
But now that Jackson is "all grown up," I am savoring Olivia's innocent days even more! I had so much fun watching her eyes light up when "Santa called her." (I will post about that too. I have video. Too cute.)
It all goes by so fast. Before I started this parenting thing, I thought it was better to not believe in Santa. But now that I am here, nine years in, I am glad I did.
My kids love Jesus. They know Christmas is His birthday and that Jesus is what this season is all about.
Believing in Santa doesn't take that away from them I don't think. It is just some fun magic that makes their eyes sparkle and their imaginations dance.
So while Olivia still writes letters to Santa and tries to stay off the naughty list, I am going to enjoy every silly second of it all!
P.S. I posted last week about the Santa Calls — and gave the coupon code 5mform for a free Santa call for our readers. You can still use that coupon code, it isn't too late. Also, so you know, PhoneGreetings.com is a sponsor of 5 Minutes for Mom this month.
Written by Janice Croze, co-founder of 5 Minutes for Mom. Talk with me: @5minutesformom and Facebook.com/5minutesformom.