This post may contain affiliate links. Read my disclosure policy here.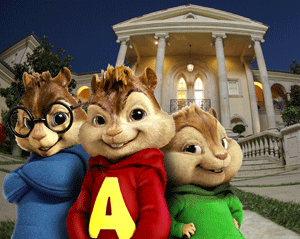 I know these high-pitched, talking chipmunks can be a tad annoying to the adult ear, but, to me, Alvin and his squeaky brothers are classic childhood fare.
And their appeal isn't lost on my son Jackson either. Those crazy little chipmunks are a favorite of Jackson's and consistently crack him up.
I had planned on taking Jackson to see Alvin and the Chipmunks' feature film in the theater, but we didn't get the chance to go. So I was thrilled to receive a screener copy to review with Jackson this past week.
Just as I expected, Jackson laughed throughout the entire movie – his infectious chuckles and hoots entertained me! It is so fun to watch my child enjoying a movie, especially with characters I enjoyed as a kid.
In the big screen tale, the furry little singers are just as charming as they were in their old cartoons.
Struggling songwriter Dave Seville (Jason Lee) opens his home to a talented trio of chipmunks named Alvin, Simon and Theodore, they quickly become overnight music sensations. But when a greedy record producer (David Cross) tries to exploit the musical ensemble, Dave must use a little human ingenuity—and a lot of 'munk mischief—to get his furry family back before it's too late!
The movie is filled with fun and lots of reasons to laugh out loud. And everyone will appreciate the warm fuzzies of love and family coming through to save the day!
Alvin and the Chipmunks is available on DVD and Blu-ray, April 1st. Included in both versions, are two bonus featurettes: "Chip-Chip-Hooray! Chipmunk History" and "Hitting the Harmony".
If your kids are big Alvin fans, you might also want to check out the Get Munk'd Tour 2008 at select malls across the country.
Coming to a few select malls for a free, one day appearance, Alvin and the Chipmunks will be performing their hit songs "Get U Goin'," "How We Roll," "Funkytown," "Get Munked" and their #1 classic hit single "Witch Doctor."

After the show, the fun with the Chipmunks continues with step-by-step dance lessons, hands on video game play stations, character photo opps, and special prize giveaways throughout the day!
For the tour schedule, visit www.alvinandthechipmunksdvd.com.
For this contest, we will have two winners who will receive both the Alvin and the Chipmunks DVD and the soundtrack and one runner up who will receive only the Alvin and the Chipmunks DVD. To enter, leave a comment at this post.
This giveaway is open to US and Canadian shipping addresses.