This post may contain affiliate links. Read my disclosure policy here.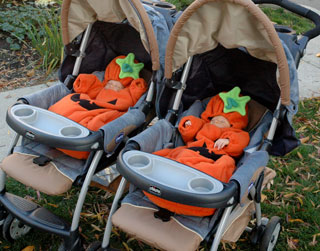 Last October, our pumpkins were tiny little newborns who barely filled up a half of their Halloween costumes or their twin Chicco strollers!
Life was one big nap and going for a walk meant only another chance for a good long sleep. We would recline their seats and tuck them in with cozy blankets. (They didn't normally go for walks in their Halloween costumes of course – but I had to post this picture because it is just so darn cute!)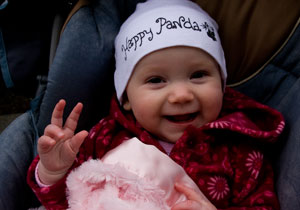 This spring, they are greeting the world as bubbly, happy, six month olds! I can't believe how fast it has gone.
Now when we go for a walk, Olivia wants to sit up and see the world. (But most walks still turn into naps before we are finished! Going for a walk is still Olivia's nap of choice.)

Through all these stages, we have been so pleased with our Chicco strollers. (Last fall, when we held our Chicco stroller giveaway for the Ct 0.1 stroller, Chicco sent us two Cortina Strollers to test out. The Cortina is part of a travel system with the KeyFit 30 Infant Car Seat. But because we live in Canada and our government does not allow us to use US car seats that have not met our specific Canadian requirements, we could not test out the car seats.)
The Cortina strollers are fantastic and have served us well these past six months. (I can only imagine how wonderful it would be to have the car seat that fits it!)
With its one-hand fold and automatic storage latch features, opening and collapsing the Cortina is super fast and easy. The stroller is light and compact and, when it is folded up, I can easily lift it and fit it in the small area behind the back seats in my mini-van.
As I mentioned, Olivia and Sophia love to nap in their strollers and the multi-position, fully reclining seat is perfect for sleeping.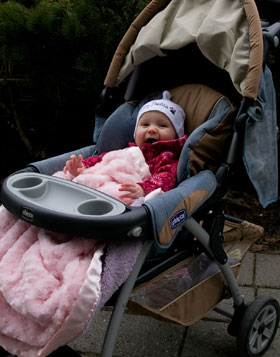 And now that the girls want to look out and enjoy the action on their walks before they give in and go to sleep, the "Memory Recline" and multi-position features makes changing positions simple.
The multi-position leg rest lifts up and the front part can fold up as well to form a basinette-style bed for infants. When Olivia and Sophia were small, we would fold up the front flap and they fit comfortably in their cozy little "beds."
We also like the reversible sun canopy that can move forward to block the sun or wind from babies faces, and the large storage basket that can still be accessed when the seat is fully reclined.
If you are looking for a stroller or travel system, Susan and I give the Chicco Cortina Stroller two thumbs up.