This post may contain affiliate links. Read my disclosure policy here.
Kids are forever asking, "What was I like when I was little?" So many mothers have said to me, "I could kick myself for not writing these stories down," but inevitably we don't.

I wanted to be Max and Lily's memory, so that if they were ever lost along the way, these letters, these little glimpses into their early personalities, might be the lamp they would need to light their way back home.

These letters can be your lamp as well. One day when they go off to college or get married, rereading these letters will help you relive some of the happiest times of your life.

Judy Siblin-Librach in Love, Mommy
As parents all of us try to capture those fleeting moments of childhood one way or another. It could be through photos, video, scrapbooking, journaling, blogging or a combination of these methods.
If you're like me, you've focused on each of these at one time or another without achieving that end-result that you desire. I often beat myself up for the little and big moments that I have neglected to preserve in the lives of Amanda (9) and Kyle (3).
I always enjoyed scrapbooking for the detailed memory collection that it produced through photos combined with journaling. However it's just not something that I have the time, or desire to make the time, to do these days.
I started a journal when Amanda was an infant to capture my thoughts about her at various stages of her life, but even after writing a long entry about a week in her one-year-old life and declaring how I was going to make this undertaking a priority, I never did write on a regular basis.
A wonderful byproduct of blogging is that I have been able to capture some photos and record my thoughts on a variety of topics such as Kyle's first black eye, the self-examination that has come with Amanda's tween years, and memorable Halloween and Easter celebrations.
I recently came across a resource that I think is really going to help me. Judy Siblin-Librach's book, Love, Mommy: Writing Love Letters to Your Baby will help those of you whose intentions have proven stronger than your follow-through. Yes, I wrote a letter to Amanda telling her about the day of her birth. I bought cute folios and even a box to store letters that I would write to her looking back over each year of her life, but once again, I have failed. Poor Kyle has not even gotten a letter about his miraculous birth, although thanks again to blogging, it has at least been captured. Also thanks to blogging, I did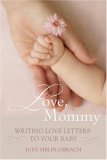 write him a somewhat tongue-in-cheek letter about starting preschool this fall.
Why is this book a better resource than some out there? Why do we even need a resource when we know that we are probably going to be inconsistent with our efforts anyway?
This book is excellent precisely because of those lapses between our intention and action. Siblin-Librach outlines the ideal situation of writing the letters at each specific life stage, but she offers the writer a way to focus on the "magic key" of the memory that you are trying to capture, as well as suggesting similar topics that you could mine for forgotten memories related to that topic.
She offers prompts that might evoke details that you might have otherwise forgotten. She shares samples of the letters that she has written to her own children around the topics of developmental milestones, first friendships, celebrations and more.
Is your baby already having babies of her own? It's not too late to give her the gift of her childhood.
Are you so busy raising your houseful of children that you don't have a moment to reflect on these moments? Read a quick chapter and seize those moments that it takes to make a precious keepsake.
This is a book that every mother should have, and every writer will want to add to her collection for the windows that it helps open from your past. You can buy it at amazon.com, and one of you will win a lovely gift set–the book tied with a ribbon and containing a journal to keep track of some of those memories.
Go ahead and buy it now. If you win, it will make a perfect baby shower gift or Mother's Day gift for your favorite mom.
Leave a comment here if you'd like to win. I'll post the winner on April 5.