This post may contain affiliate links. Read my disclosure policy here.
In 1985, Janice and I were 12 year olds who cared about only one thing when shopping for jeans — the label.
All it took to please us was a certain inverted triangle stitched to the back pocket.
Since our Canadian city had yet to offer much in pre-teen clothing selections, we would coerce our too-good-to-us mother to drive us across the border to the mecca of shopping – the USA. Picking the perfect pair of jeans was a simple as checking the size and the label. Of course we'd try the jeans on to admire them, but we already knew they'd fit.
Well, we are no longer 12 years old and sadly our figures aren't as simple to fit as they once were. Finding the right pair of jeans is much more complicated than driving across the border and grabbing our favorite brand of jeans.
Until now.
A few months ago Janice found the solution. True Jeans.
We didn't believe it at first… I mean… come on… buying jeans over the Internet, without even trying them on? But Janice followed their process, taking numerous measurements and stepping through their clever wizard, to select two pairs of jeans.
And then, just a few days later, the UPS man delivered two pairs of jeans that truly fit!

But since that day, I have been jealous.
While Janice enjoys her perfectly fitting, fabulous looking jeans, I sulk on my couch in my uncool, cardboard stiff denim.
But I had a plan. First, shed off a bit of this extra baby weight that was keeping me out of my old clothes. Then, when I was back to a reasonable size, click over to True Jeans.
Now the time has come. My baby weight is not all gone and my prepregnancy shape has certainly not been restored, but I have returned to a somewhat decent weight and to celebrate I'm making the click.
I'm heading over to the True Jeans site right now. I'll be back once I have ordered myself a pair of True Jeans.
Don't go anywhere… I'm coming right back.
Okay, that was easy! No depressing changing room trauma. No wading through mountains of different styles. No putting up with sales people telling me that an ill-fitting pair of jeans looks great on me. (Yes, I did have one advantage… I had already seen first hand that Janice used the system and it worked perfectly for her… so I had an extra vote of confidence in making my selections.)
So… are you dying to know which jeans I choose?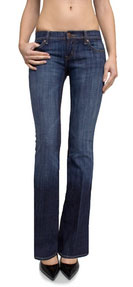 You got it… I ordered two pairs:
iT Jeans — Hottie — Rio
7 For All Mankind — Bootcut — New York Dark
I'm so excited. How hip am I?
Check it out… Rachel Bilson wears 7 For All Mankind jeans too and Oprah featured iT jeans in her magazine.
Now I just have to do some serious Pilates workouts so that I can look like the model on the True Jeans site. Just give me a few months… Yeah right. LOL
So here's the best news… We're giving one of you a $200 Gift card for TrueJeans.com and we're giving all of you 15% off until March 31st.
The 15% discount only lasts until March 31st, so I recommend you click over now and buy a pair. And if you happen to be the lucky winner, then you can get another pair or two.
The jeans offered at True Jeans are high-end designer jeans, so they're not cheap. But there are some brands, like the iT ones that I ordered that are about the same price as a pair of Gap jeans. I can personally recommend the iT brand because I tried on Janice's and LOVED them. Janice also looks fantastic in her Red Engine jeans that she found through True Jeans.
So if you'd like to be the lucky girl who gets a True Jeans $200 shopping spree, leave a comment here and link back to this post on your own blog. (If you don't have a blog, we understand you can't link back so just spread the word to some friends.) We'll announce the winner on Saturday, April 5th. But don't wait until then; use your 15% discount now with the code 5MinMarch.
Discount details:
Code: 5MinMarch
Offer: 15% off orders of $100 or more
Expires: March 31, 2008