This post may contain affiliate links. Read my disclosure policy here.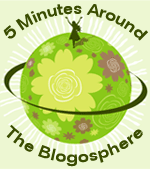 Just a reminder that 5 Minutes Around the Blogosphere will be on a break next Sunday. See you on the 30th!
CONTESTS & ANNOUNCEMENTS
Scrapping Servant is organizing a couple of really cool upcoming events. First, the My Walk Monday Meme where she hopes to "have a home for accountability and encouragement in my walk with Christ Jesus." Second, the Scrapbook Blog Party from May 10th – 24th. This is your opportunity to party with fellow scrapbookers in a fun environment filled with new friends and prizes!
Don't forget to join in on the fun at a Virtual Baby Shower honoring adoptive-mom-to-be, Dawn. Stop by Little Ladybug Designs from March 27th – 29th for all the details. You could win some great prizes, too!
Calling all you Kristi Yamaguchi fans! Kristi, mother of 2, has started a non-profit foundation called the Always Dream Foundation that focuses on children and helping them fulfill their dreams. She aims to support organizations that have a
positive effect on children as well. She will also be participating in this season of Dancing With The Stars. Check it out every Monday evening beginning on March 17th.
BLOG GIVEAWAYS
CELEBRATING THE HOLIDAYS
Thumbplay – Kick off your St. Patrick's Day party with these cool ringtones and wallpapers. It's a wonderful time of the year when everyone can be Irish.
COOL WEBSITES

Project Working Moms – If you're a working mom who's planning to go back to school in 2008, this is for you! eLearners.com has just launched a campaign where they'd like to offer $2 million in full-ride scholarship. Stop by for more information.
Second Rotation – Ever wonder what to do with your used cell phones, computers, and other electronic gadgets once you've upgraded? Second Rotation makes it very easy for you to find out what your items are worth and will even pay you for them. Very cool!
Ethan's Bookshelf – "Ethan's Bookshelf is dedicated to helping parents raise lifelong readers. With book reviews, best of lists, tips for parents and community boards, we're here to help you choose the right books for your children and encourage them to read, imagine, and learn."
Mommies United – "Our goal is to bring Moms from all over the blogosphere together in one place! We will be hosting parties, scavenger hunts, giveaways and contests. Mommies United will also be a place where you can read and share stories about our kiddos, tips, ideas, and parenting strategies ."
If you would like to have a post on your blog featured in 5 Minutes Around The Blogosphere, please send us an email with the actual link to your post at features5minutesformom at gmail dot com and we'll see if it can be arranged.
Kailani can be found at An Island Life, An Island Review, & Island Baby Boutique.