This post may contain affiliate links. Read my disclosure policy here.
Before we announce the winners of the 5 Pretend with Miss Kim DVDs, I have a very important announcement to make. Patty, the winner of the Oreck vacuum cleaner, has not responded to the two emails I've sent to the email address left in her entry (@mac.com). If I don't hear from her by the end of the week, I will draw another winner.
And as a reminder–when you enter a contest, make sure that you check back to see if you have won. If we can't reach you, we can't award the prize.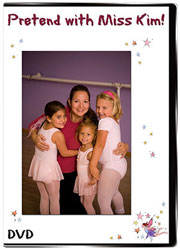 And now for better news. The five winners of a Pretend with Miss Kim DVD are
#61 Ann Fantom
#147 Kathy Conley
#210 Elizabeth
#193 Donna Cohen
#146 Kelly B. from Iowa
You should each have an email from me with the subject line "Pretend with Miss Kim DVD."