This post may contain affiliate links. Read my disclosure policy here.
Happy Thanksgiving!!!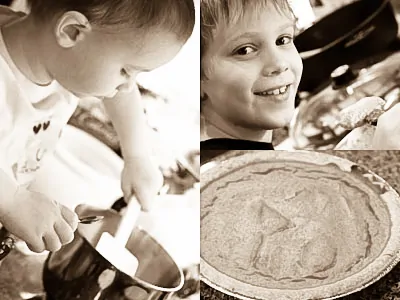 What's on your agenda for today?
Basting a bird?
Scrubbing your sink spotless for your mother-in-law's arrival?
Battling a blizzard to get to a family dinner?
Waiting for hours in an airport?
Or maybe you're extra lucky today. Are you…
Relaxing on the couch?
Enjoying the aroma of a turkey prepared by your spouse?
Playing in the snow with your children?
Laughing at stories of the past with family and friends?

Our Thanksgiving Days may look rather different, but we all have this in common…
We are thankful.
Janice and I are Canadian and so we celebrated a day with turkey dinner back in October. But we also take time on this American Thanksgiving Day to count our many blessings.
As mothers, Janice and I will always top our list of blessings with our children. Janice and I each have two precious children who fill our lives with joy and fun-filled chaos.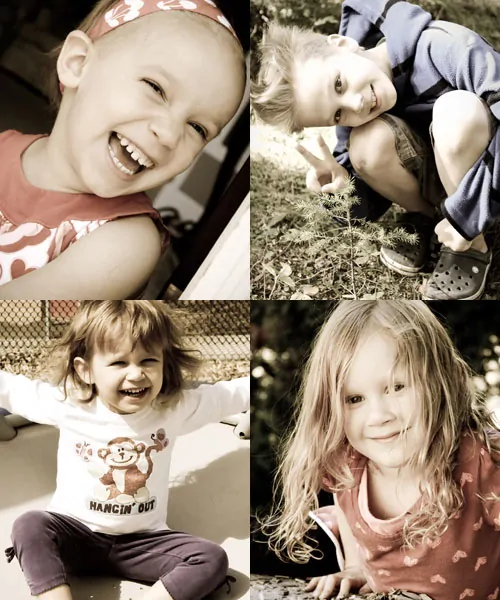 Almost nine years ago, the journey began with Jackson. Janice and I both desperately wanted to have children, but thought we'd best plan the timing carefully so that we could help each other. It was Janice's turn first. On her first month of 'trying', the stick changed color, and 9 months later, Jackson arrived.
But, sadly I couldn't seem to keep the schedule. It was my turn next, but my body didn't obey. So I focused my love on Jackson as his doting auntie and tried to be patient as a waited for my own.
With a sweet sense of timing, Julia finally arrived on Mother's Day in 2005. I felt surely I was the most thankful woman in the world.
And then, the fall of 2007 brought a twin blessing slightly differently than others… Janice and I birthed babies two weeks apart and called them our twin cousins. Despite their similar DNA, my Sophia and Janice's Olivia looked and behaved nothing like each other, but that didn't stop us from dressing them alike and raising them as close as sisters.
Our four children love each other and play together constantly. We can feel how thankful they are for each other and we both know that we can't ever imagine being more thankful for anything else in the world than our beloved children.
Our list of thanks goes on and on… but somehow when I start the list, I tend to linger on that number one entry — our greatest blessing — our children!
Give Thanks With Us
What are you most thankful for?
How do you spend Thanksgiving Day?
Share your Thanksgiving posts with us and the rest of the blogosphere.
Add your link below to any and all of your Thanksgiving related posts…
Here's a Thumbnail style Linky…

Or a basic style Linky if you prefer…
Written by Susan, co-founder of 5 Minutes for Mom. Talk with me: @5minutesformom and Facebook.com/5minutesformom.