This post may contain affiliate links. Read my disclosure policy here.
The winner of a $100 gift certificate to Healthy Child is #29, Jessica T. If you missed our interview with the owner Jane Sheppard about the benefits of natural products for your children, click here to read it.
#351, Kathy Conley, wins a $75 gift certificate for the MyUbby website, where she will be able to select from any in the build your blanket line.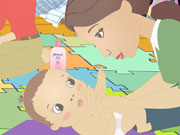 #134, Carissa Davis, has won the fabulous Johnson's® "Baby Bonding Gift Basket" that includes Pink Lotion, a cashmere wrap and a set of Johnson's® Melt Away Stress products. If you didn't click through to see the Touching Bond animated shorts, click on through now.
You should each have an email requesting further info.
Congrats!