This post may contain affiliate links. Read my disclosure policy here.
Last month I introduced one of my favorite genres of reading–the memoir–by reviewing Trail of Crumbs. Along with Kim Sunee's journey of personal discovery, that book also focused on food and travel. The Sky Isn't Visible From Here by Felicia Sullivan is a memoir in its true sense.
In her review of The Glass Castle, New York Times Book Reviewer Francine Prose described memoir as our modern-day fairy tales. Reading that description helped me put my finger on why I relish these stories that are so often filled with such tragedy and heartbreak. The Sky Isn't Visible From Here leaves me dumbfounded that a person survived the types of things that life threw Sullivan. The fairy tale is that the heroine does survive, does overcome the arch enemy, and does teach the reader something about the world in which we live. In the end, a well-told memoir is not only about a person's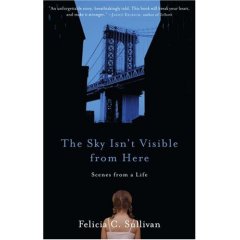 journey, but the lessons that she learned as a result of it.
Felicia Sullivan recalls a childhood with a mother who is an addict. While there are certainly instances of clear neglect that make the reader's heart break for the poor little girl, it is not all black and white. There are moments when the mother does fulfill they typical roles of protector, lunch-maker, and parental guide. As Sullivan grows up, she chooses to distance herself from the emotional pain that a relationship with her mother causes her. Unfortunately, she doesn't completely avoid the problems that her drug-addicted mother suffered. Instead, as is so often the case, she ventures down that same road herself. The second half of her story focuses on her own addiction and recovery.
In spite of the heavy nature of the subjects addressed, this is essentially a story of survival, choices, and hope. One reader can win a copy of The Sky Isn't Visible From Here by leaving a comment. We'll announce the winner next week.
The winners of Rattled: Surviving Your Baby's First Year Without Losing Your Cool, from last week's column are #81 Tina, and #14 Deb Piper. You should have received an email from me.  If not, please contact us with your address.