This post may contain affiliate links. Read my disclosure policy here.
I love Fall! I love the slightly cooler temperatures and I love being surrounded by all those vibrant colors on the trees! What I don't love…how dull and drab my hair begins to look!
While I do love going to the hair salon and spending the time and money to get my hair looking nice, I tend not to spend the extra money on take-home products from the salon. Seriously, those products (including shampoo and conditioner) can be so expensive! I tend to just buy whatever is on sale at the store, which usually means that I'm sacrificing quality for the sake of price.
Now, thanks to Fantastic Sams®, I no longer have to sacrifice quality on my hair products just to get a good price!

You may know Fantastic Sams® as one of the world's largest full-service hair care franchises, but did you know that they also offer amazing salon-quality products? And what's better…these products are all available for just about $10!!! That is just a fraction of the cost of the products offered at my local salon!
I've been using the Fantastic Cleanse Color Protect Shampoo and Conditioner for a few weeks now and I'm already amazed at how it has locked in my hair color to last longer and still look vibrant! This is usually the time when I start anxiously counting down the days until my appointment when I can get the grey erased from my head, but this time I feel like I could still wait several weeks! I've also been enjoying the Color Protect Conditioning Masque, a deep conditioner that I apply once a week to replenish the moisture and protein in my hair, leaving my hair so soft and shiny!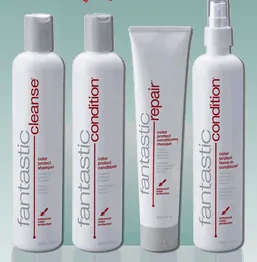 Fantastic Sams® not only offers a Color Protect line but they also have a Moisturizing Regimen, a Volumizing Regimen, an extensive line of Styling and Finishing products, and even a product line designed for the Fantastic Men in your life!
Isn't that awesome? You now have a great option for getting great salon-quality hair products at a price that won't bust your budget! If you want even more great deals and coupons, check out the Fantastic Sams Facebook page!!!
We want to keep your hair as bright and vibrant as those fall leaves so we are giving away a Color Protect gift pack from Fantastic Sams! To enter, simply leave a comment on this post! This contest is open to US residents and will close on November 12. Please see our site's terms and conditions for our complete contest rules.
Fantastic Sams is providing a Color Protect gift pack for our winner and also provided me with a similar gift pack so that I could try them out and bring you a personal review. All opinions stated here are my own.