This post may contain affiliate links. Read my disclosure policy here.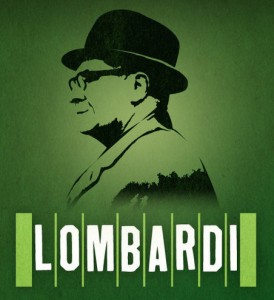 I recently had the chance to see Lombardi on Broadway. My husband and I were completely transfixed during the entire show, which is performed over 90 minutes with no intermission.
The setting at Circle in the Square theater (where I saw the Miracle Worker on Broadway last year) makes any good show absolutely superb. At this point, I would see anything that is shown in that intimate theater in the round setting. Every seat is down close to the stage, and there are no curtains or walls or barriers between you and the actors.
Regardless of where it's showing, I can highly recommend Lombardi. I'm not a sports fan, and I'm certainly not a Green Bay Packers fan, but my husband is a huge football fan. Any football fan is familiar with the legend that is Vince Lombardi.
This play looks at his life, from a struggling assistant coach to the man who turned the Packers into a winning machine. The setting is the life of a football coach, on the field and off, but it's not a football story. It's a story of dreams, of family, and winning.
Judith Light and Dan Lauria are 80's television fixtures (from Who's the Boss and The Wonder Years), and their performances as the Lombardis are excellent, as is Keith Nobbs', who plays Michael McCormick, the reporter who is shadows Lombardi as he collects information from his wife, the players and the coach himself, in order to write a magazine piece on Lombardi's success.
He also acts as the narrator, changing from scene to scene and explaining what the background was.
Like I said, I'm not a football fan, but I definitely appreciate the inspiration that Lombardi was, and this was so much more than a football story. I highly recommend Lombardi on Broadway.

If you are local to the NYC area, or if you have New York City holiday travel plans, you can enter to win a pair of tickets to the show.
One of you will win a pair of tickets to see Lombardi at Circle in the Square theater (Trust me, if you ever have a chance to see any show at Circle in the Square theater — do it). The voucher is good from now through December 18. Blackout dates do apply, but there are dates and times offered for weekends, weeknights, matinees. You can also find discount Broadway tickets online.
This is a quick giveaway to give the winner a chance to select her favorite dates. Please spread the word on Facebook, twitter, and via email to all your NYC area Broadway-loving friends. We'll announce the winner in just a week — November 8 — in our 5 Minutes for Books column here.
Disclosure: I received a pair of tickets in order to review the show for this giveaway. My opinions are entirely my own.