This post may contain affiliate links. Read my disclosure policy here.
Thanks to Shannon for hosting the Bloggy Giveaway carnival. To find many other giveaways, click on over.
Betsy Brown Braun has written a wonderful book aimed at parents of 2 to 6 year olds (and beneficial to parents of older school children as well). Just Tell Me What to Say offers "sensible tips and scripts for perplexed parents." I would offer humorous to the mix as well, but otherwise that subtitle sums it up quite well.
The first two chapters address general communication principles, and discipline do's and don'ts. These chapters in particular are especially applicable to children older than six as well as the targeted age group. Several of her tips were arrows aimed right at me pointing out communication mistakes that I regularly make:
demanding eye contact (which requires so much effort for some kids that your message is actually lost)
spelling or talking about your child in front of them as if they aren't there (which shows disrespect)
ignoring or tuning out (as much as that preschool flow of words requires of me, I need to take advantage of the communication, because unanswered questions eventually become unasked questions)
Other sections are devoted to sibling rivalry, tantrums (how to handle them and why they are a normal stage of development), food issues and nutrition, and social grace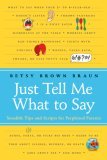 s. The last few chapters offer help talking about difficult topics, such as the birds and the bees, a serious illness in the family, death, and natural disasters and war.
In each chapter, Braun first explains her take on the issue at hand (which is gleaned from thirty-seven years in practice as a child development specialist and raising her own triplets to adulthood). Then she offers bulleted lists in a "tips and scripts" section addressing the issue. I love the scripts! For example, if you have trouble standing firm on discipline (as I admit that I do) and not giving in to your child's diversionary tactics, it's much easier if you have an answer ready to go:
I have made my decision, and I am not going to change my mind.
You choose your behavior, you choose your consequence.
I am done talking about this.
If you've ever wondered what to say or what to do while dealing with the normal development of a preschooler, you will find this book helpful and encouraging. To find out more about the author or the book, visit her website, JustTellMeWhattoSay.com.
One reader who leaves a comment will win a copy of Just Tell Me What to Say (that can ship to the U.S. or Canada). Be sure to check back next week to see if you are a winner so that you can be on the lookout for an email from me with the book title in the subject line.
These lucky readers have won Trail of Crumbs, the book we featured last week. You should have an email in your inbox (or your spam filter) to which you can respond with your name and address.

#35 Laura K.
#68 Marlene Rugg
#56 Corina Smith