This post may contain affiliate links. Read my disclosure policy here.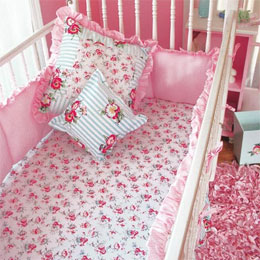 When mom-entrepreneur Vicki Mote Bodwell was a little girl, her Texan Grandmother used to say to her, "Honey, I think it's time to crawl into your biscuit," which meant, "Go to bed!"
And now, decades later, Vicki's company, Warm Biscuit Bedding Company, is creating the warmest, coziest of "biscuits" for children all over America to crawl into each night. Even a short visit to www.warmbiscuit.com brings a shopper back in time with the store's old fashioned charm.
As a bedding company, we believe bedding is the first step in creating warm, colorful and fun environments. As a mom, I want bedding that can be passed on from one child to the next. So, design is only part of the equation.

We use carefully selected high thread count, all-cotton fabrics and superior construction to ensure the excellent quality of our bedding. In fact, our bedding is made in the U.S. by moms and grandmoms!
At Warm Biscuit Bedding Company you can create customized bedrooms, with vintage bedding and fabrics, hand-crafted, hand painted children's furniture, baby furniture, and toys, and everything else you could imagine. It is like shopping in a simpler time, away from the licensed world of superheroes and TV characters, when grandmothers stitched quilts and children played with wooden toys.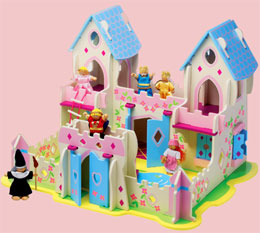 Julia has been so lucky to get to play with the Fairy Castle Set. This beautifully crafted, wooden fairy tale palace, includes a working bridge, doors, windows, a secret entrance and comes with a set of 6 flexible wooden figures.
Julia loves to drift into an imaginary land with this wonderful set – but she brings along "Queen Mommy," "King Daddy" and "Princess Sophia" too. Every beautiful princess needs a good family to be happy!
If you want to enchant your children with this Fairy Castle Set or, if you prefer, a gift certificate of equal value ($110.00) to choose something else from Warm Biscuit Bedding Company, leave a comment here to enter.
We will draw the winner on February 8th. Please remember to check back to see if you won and check your email (including your junk mail folder.)
This contest is open only to US shipping addresses.