This post may contain affiliate links. Read my disclosure policy here.

Time for a Managing Editor…
5 Minutes for Mom has always been a team effort. From the day we started blogging back in March 2006, Susan and I have worked together and, over the years, have benefited from guest bloggers, contributing editors, managing editors for our sister sites, and, for the last two years, our fabulous friend and virtual assistant Erica.
But as we continue to grow and challenge ourselves with new projects, we have realized it is time to bring on a new team member — a managing editor for 5 Minutes for Mom.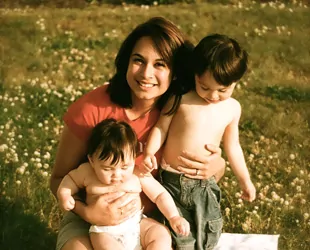 Introducing Carmen Grant…
Thanks to a recommendation from Angela England, Managing Editor at Blissfully Domestic and founder of Untrained Housewife, we have hired Carmen Grant as 5 Minutes for Mom's Managing Editor.
Carmen has been writing for the web for four years now and started soon after giving birth to her oldest son. Like so many other moms, she got into blogging to get connected and talk about the crazy events of her daily life. She went straight from college, earning a BA in International Relations, to babies. Most of the time she feels that mediation techniques for staving off international attacks are very similar to temper tantrum reduction strategies.
Carmen writes about parenting, politics, education, and personal finance. She is an Accredited Financial Counselor and Certified Federal Job Trainer and volunteers at the Navy Marine Corps Relief Society when she can spare a day during the week. She is a proud Navy wife and mother to two boys, Aiden (4) and Eric (3). Carmen currently lives in Sicily and is moving to San Diego, CA in November.
Welcome Carmen! We are so thrilled to have you on our 5 Minutes for Mom team!
Related articles