This post may contain affiliate links. Read my disclosure policy here.
I have to admit that I haven't done as well teaching my daughter Amanda (age 9) about money as I would like. When I heard about Kids $ave software, I thought it could solve a lot of my problems.
Problem 1: I always forget to give Amanda her allowance on a regular basis. When she wants to buy something, since I know that I haven't enabled her to save on her own, I usually just end up handing over some cash (as an advance or payment in arrears), which doesn't teach her anything about the true value of a dollar.
Problem 2: When I do give Amanda her allowance, she will spend it at the first opportunity. Two dollars buys you junk worth two dollars, which again is not really conveying the message about her money that I would like.
Problem 3: Even if Amanda does decide to save up for a much-wanted big-ticket item, it seems out of reach so her resolve soon fails and she's back to buying junk.
The program is easy to download from www.kidnexions.com. You can try it out free for 35 days. Anytime during the trial, you can purchase a key, which allows you permanent access to the program. You can set up different accounts for various family members. Each child can customize his or her own screen.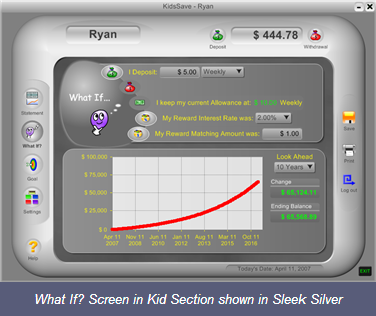 How did Kid $ave work at solving my problems? Quite well actually.
Problem 1–SOLVED: I can set it up to pay Amanda on a weekly basis. I can also add in bonuses, which I like, because I do financially reward her for taking care of her brother or doing extra chores around the house.
Problem 2–SOLVED: Cash just screams out, "Spend me!" Seeing a balance in her account is something that she enjoys. This makes it operate truly like a bank account, which really does teach her how money works. If we are out, and she wants to spend some of her money, I can give her the funds and then debit her account online.
Problem 3–SOLVED: Last year I did open a savings account for Amanda (you can rectify real bank balances with the amount online as well). She has decided that she would like to buy a trumpet next year when she is allowed to join orchestra at her school. Having a goal has made her much less frivolous with her money. This is one of the best features of this program. She can play around with the time and see how long it will take her to reach her goal. She has had a lot of fun with this, even seeing how much she will have in ten years.
Go ahead and download the program today and try it out. One of our readers will win a license key so that they can download the full version. Just leave a comment and we'll draw a winner on January 31.