This post may contain affiliate links. Read my disclosure policy here.
Finally I finished this task…
Those of you who have been tackling with us for awhile will remember the massive tackling Susan and I were doing in the final weeks before our babies arrived this fall. We were both rushing to make room in our houses for our new babies and we had left things to the last minute.
We did accomplish quite a bit – but a number of things didn't get finished. My daughter Olivia came two weeks early and I was not ready! We scrambled and survived – but not everything was how we hoped it would be.
One of the hugest parts of the tackle at my house was converting our old office space into Jackson's room. (We have the home office for our business now at Susan's house and I work at our kitchen table at our house so I can work in the thick of parenting.)
Finding places for all the stuff from the office was a nightmare. We tried to fit a lot of it into this antique sideboard in our hall. But the last few things didn't find a home before Olivia arrived. And they have been sitting there now for four months! It was time to finish that task!
Here is how it looked during the tackling back in September. The room in the background is the old office that was about to be painted and transformed into Jackson's room.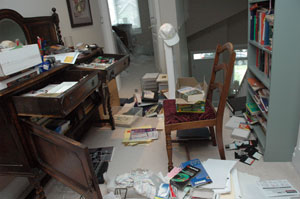 Here is how the sideboard has looked these past four months.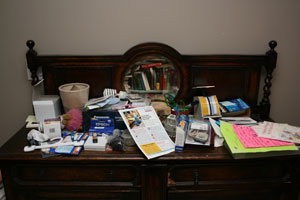 And here is the finished product today.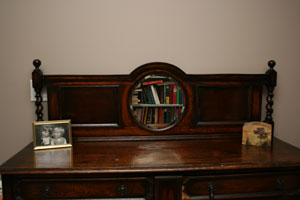 I wish the whole house was tackled. There are still many tackles waiting – and as usual – new tackles growing every day. But it sure feels GREAT to get this part finished.
What are you tackling?