This post may contain affiliate links. Read my disclosure policy here.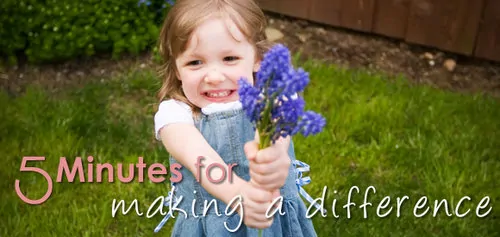 October 23, 2010 is Make A Difference Day!
For 20 years, USA WEEKEND and HandsOn Network, a business unit of Points of Light Institute, have joined together to sponsor Make A Difference Day, the largest national day of community service. Held annually on the fourth Saturday in October, Make A Difference Day is a celebration of neighbors helping neighbors.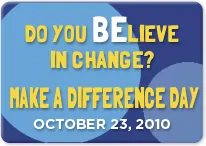 Do you want to get involved?
Visit the Make A Difference Day site to search for projects by state or zip code.
You can also become a fan of Make A Difference Day on Facebook to receive instant updates and connect with others who will be volunteering!
Let's get out there and spend Saturday making a difference.
Tomorrow, my daughter and I will be taking part in a service project at her school, making sandwiches for a local homeless shelter.
I'd love to hear all about your plans for Make A Difference Day. Please share them in the comments section below.