This post may contain affiliate links. Read my disclosure policy here.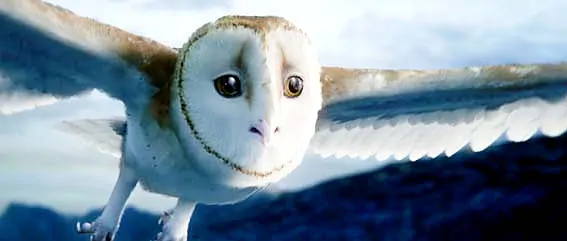 Do you recognize this owl? It's Soren, one of the owls featured in the Guardians of Ga'Hoole. If your older elementary aged child enjoys animal stories, fantasy, or adventure, he or she has likely read these books (or would like to). This week the movie opens, and in honor of that I was able to do an exclusive interview with the Newbery honor author, Kathryn Lasky.

Jennifer, 5 Minutes for Mom: Why do you think that kids relate to personified animal stories?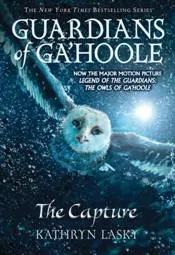 Kathryn Lasky: Well, that's an interesting question. I think possibly it's the slight displacement, a sense of remove. This is somewhat ironic I realize—that kids can connect with something that is not human, but I feel that the very fact that it's an animal gives them a distance from which to really see and begin to understand on another level.
5M4M: How is writing a story about animals the same for you, and how is it different from writing about people?
KL: In some ways writing about people is much more interesting just from the point of view of human facial expressions and body language. Animals don't really smile or laugh out loud, or roll their eyes in dismay. So their range of expression seems limited for an author. How do you convey those feelings? And make no mistake I am writing a lot about creatures' feelings be they owls or wolves. All animals do have certain behaviors that suggest emotions. Owls for example can make themselves very long and skinny when they are frightened or wish to camouflage themselves while waiting for prey and just blend into the landscape. Wolves have a rich range of body postures for indicating interactions between high ranking wolves and lower ranking ones, as well as threat and submission stances. Their tails are very indicative of their mental state. So I just have to exploit these elements of any animal's body language as much as possible.
5M4M: How involved were you in the making of the film?
KL: I was involved to a limited extent. I made three trips to Los Angeles to discuss the movie both before the screenwriter and director were hired and then after. The screenwriter John Orloff called me throughout the process to consult with me on the screenplay. He was terrific—open to ideas, really probing me on how I viewed certain plot elements, characters, etc. I knew there were changes that would have to be made, for a movie is not a book. But I was very comfortable how he and Zack Snyder the director handled these changes. A complete screenplay was sent to me maybe eighteen months ago and I read it and wrote an extensive memo concerning things that I felt needed some adjusting and they really incorporated most of my changes. Zack, John and the producers Lionel Wigram and Donald De Line were very attentive to my suggestions—all of them good listeners.


5M4M: Seeing a story play out on screen is so different from reading it. What impresses you about the visual elements of the movie?
KL: I suppose the thing that most impresses me about the film in general, but especially visually, is the integrity of the filmmakers. There is so much 3D being used these days –sometimes gratuitously. They will shoot something in 2D than lay on 3D after the fact. Zack Snyder from the very start conceived this film as 3D. As Zack put it in an interview recently "3D was in the very fabric of the story." It was natural to the story. These are birds. They are flying and one yearns to fly with them. Every since I can remember I have had dreams of flight. I think subconsciously that was a deep impulse for me to write this series—I wanted to fly. So for me in a funny way seeing the movie was not so different from the primal dreams that inspired me to write the books. The footage is absolutely spectacular. The scene when Soren flies through a gale with his mentor Ezylryb is some of the most breathtaking footage I have ever seen on a screen.
It all feels so incredible. For nearly ten years I have lived with these characters' voices in my head and now to hear them and hear them voiced by such great actors like Jim Sturgess, Helen Mirren, Sam Neil, Geoffrey is overwhelming to me. I started crying. All I could think was 'all this stuff in my head for so long and now it's out there.' This is strange to say but I almost felt as if I had been away—lonely and away for a long time and I was now back and being welcomed by long lost friends—even the bad guys! Warner Bros and the people at Animal Logic the animation studio in Sydney Australia –all of the creators of this movie from the producers, the director, the writers and the actors have remained so faithful to the spirit of the books and the characters.
*********
Find out more about the book series, the movie, and the author Kathryn Lasky at the Scholastic Guardians site.
In honor of the movie's release on September 24, we have a special giveaway for TWO of you (U.S. residents only):
We will announce the winners on October 4, here in the weekly 5 Minutes for Books column.

The winner of the $50 Visa card on the Spacedheadz by Jon Scieszka post is #16 katklaw777.