This post may contain affiliate links. Read my disclosure policy here.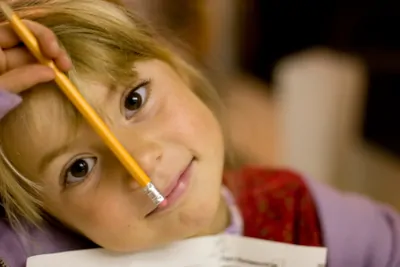 My 6-year-old daughter has had quite the struggle with handwriting. Last year, in Kindergarten, her handwriting scores were so low, that there was a time when it was close to interfering with her moving up to the First Grade.
That is why I was delighted to see it improve drastically over the last couple of months. She was promoted to First Grade and currently has an A in handwriting. I am so proud!
My four-year-old makes it a point to sit at the kitchen table while my daughter and I work together on her spelling and handwriting homework. When she has spelling words to practice, he is quick to ask if he can also write the words. He smiles brightly and says to me, "I just love homework."
I like to also use that time to give him his own age appropriate handwriting sheets to work with. Mead products are PERFECT for this.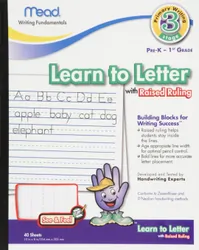 Yes, we have become huge fans of Mead Writing Fundamentals.
I love, love, LOVE the Learn to Letter raised ruling primary paper. It has been very helpful for my daughter. We use these sheets to practice her spelling words. She loves that she can see and feel the grooves.
Since she writes only on handwriting sheets in class, using Mead Writing Fundamentals at home as well, helps to enforce proper letter placement.
It has been such a help for her and I know that it has made a huge difference with her handwriting.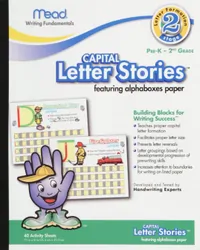 My son loves letters and has been thoroughly enjoying the Capital Letter Stories, which uses rhyming stories, bright colors and adorable pictures to introduce proper letter formation. He has so much fun with it.
He has also had fun pasting the badges, that he earns at the end of each section, onto the certificate that is placed at the very back of the Capital Letter Stories. Once he has earned and glued on all of the badges, his certificate will be complete. He gets to have fun with glue and feel a sense of accomplishment at the same time. What else could a four-year-old ask for?
Mead Writing Fundamentals has plenty of sheets to work with in all of its four stages:
Stage 1: Fine Motor Development for Pre-K and up
Stage 2: Letter Formation for Pre-K thru 2nd Grade
Stage 3: Primary Writing for Kindergarten thru 3rd Grade
Stage 4: Writing Fluency for 1st Grade and up

Mead's website is also filled with fun tips, activities and demos to help you build skills with your children.
To help get you started with that skill building, we would like to give one of you 5 Mead Writing Fundamental products of your choice. Just leave a comment below to enter by Friday, October 1st. We will announce our winner on Saturday, October 2nd. This giveaway is open to both US and Canadian shipping addresses and is void where prohibited. Please see our site's Terms and Conditions of Use for more information.