This post may contain affiliate links. Read my disclosure policy here.
I was at a beautiful wedding this summer, and not only was the bride stunning, but I loved her wedding favors!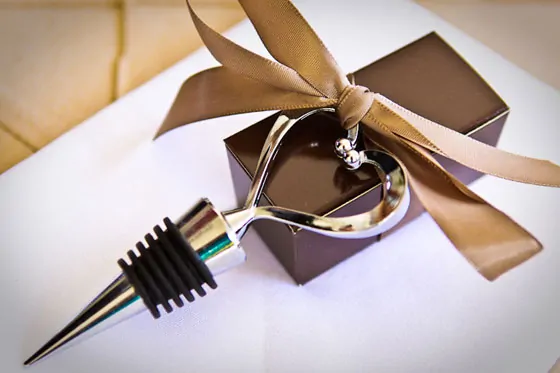 I thought I would share the photo with you in case any of you are planning, or helping plan, a wedding. I remember sorting through ideas for wedding favors for Susan's wedding and my wedding, and I wish I had come across these wine stopper wedding favors.
While I didn't have a chance to ask the bride where she purchased the wine stoppers, a simple search on Google turns up a wide variety of wedding favor wine stoppers. I didn't find the same ones however. But if you looked deeper, I am sure you could find them somewhere.
Your Turn:
What do you think of wine stoppers as wedding favors? (It wouldn't be the most practical gift for a non-alcohol-consuming crowd! But if your friends and family enjoy a good bottle of wine, I think it is lovely.)
What did you give as wedding favors at your wedding?

Written by Janice Croze, co-founder of 5 Minutes for Mom. Tweet with me at @5minutesformom and @janicecroze.