This post may contain affiliate links. Read my disclosure policy here.
Practical Luxury
Picture the softest, most luxurious blanket you have ever touched and then imagine that blanket is perfectly designed to stay in place when you put it on your baby's stroller or wrap it around your baby carrier and you have the Secure2Me Baby Blankets.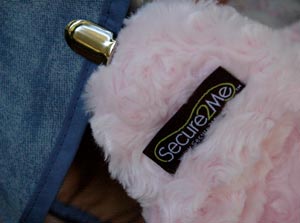 These functional and gorgeous blankets are designed by Amy Long, a mother of three, who was tired of blankets that always slipped and fell off her baby stroller or baby carrier.
When her baby's blanket landed in a puddle in a parking lot, Amy had had enough and took matters into her own hands. She sought out the most incredible fabrics she could find, searched through seventy different clip designs and tried out six different design shapes to create her masterpiece – the Secure2Me baby blanket.
The need for such a blanket really hit home for me the other day when I was dropping off Jackson at school. My friend had a nine month old baby in his stroller with no blanket in the brisk, fall wind. When one of the other moms commented about the blanketless baby, my friend told us that it is impossible for her to keep a blanket on her baby. He kicks or throws it off within seconds. (Yes of course, I immediately told her about the Secure2Me baby blanket!)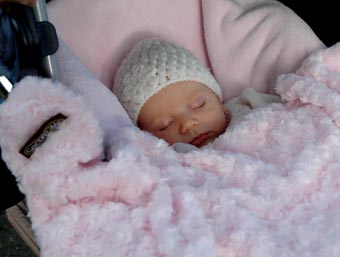 The Secure2Me baby blankets are available in different weights – so your baby will be covered in all seasons. We tried out the Pink Bon Bon blanket which is made with the most fabulous pink rosebud minky swirl fabric and is backed with cozy minky cuddle velvet. I couldn't be more in love with this blanket!
Amy is giving three of you a chance to indulge your baby or gift your friend's baby with this incredible blanket this Christmas in our Christmas Giveaway. (But don't worry if you don't win – you will be thrilled at how reasonably priced this little piece of luxury is.)
If you want to win, all the instructions are explained in the Christmas Giveaway 2007 post (including the code to put our Christmas Giveaway button on your site.)
But here is a quick run through:
Leave a comment on this post to be entered.
Either post a link to this contest OR post a button linking to our Christmas Giveaway post. (If you post the button and link to the Christmas Giveaway, you are qualified to enter in all the upcoming Christmas Giveaway contests. And we have many more contests to come!) Non-bloggers are welcome too – we understand you can't link – but feel free to pass the word on to your friends.
(This giveaway is open to US and Canadian shipping addresses.)