This post may contain affiliate links. Read my disclosure policy here.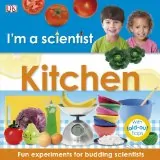 The world of publishing is a gigantic one with many choices and specialties for all types of readers. When it comes to nonfiction offerings, especially information books for children, there is one specific publisher that is consistently renowned for quality and scope. DK Publishing won my love many years ago, and as a parent of three children from toddler to older elementary school aged, I regularly seek out DK titles for my kids' reading and browsing pleasure.
Three recently released titles have especially caught my interest, and being not terribly science-oriented myself, I appreciate what these three books can offer my children in education and experiences. For my youngest two, I'm really looking forward to conducting some of the experiments in I'm a Scientist: Kitchen. The way I look at it, these are absolutely perfect projects that provide hands-on experiences for young children to introduce and reinforce some basic scientific concepts, from magnetism to density, oxidation to conduction. In typical DK fashion, these pages are filled with bright photographs, and the layout of each two page spread clearly shows each experiment's necessary materials and numbered steps, along with a fold-out flap that gives a simple explanation of the concepts addressed.
Just one look at the cover of Nature Explorer and I was immediately wowed. Seriously, look at that amazing caterpillar! Admittedly, I am frequently wowed by the wonders of the insect world, and the section of this book titled "Bug Hunter" is by far my favorite. The fun certainly doesn't stop with bugs, though, as birds, space, rocks and fossils, weather, and animals and plants have their own respective sections as well. Again, the incredible photographs show off close-up details that invite examination, and the wealth of information provided has kept me poking my husband with constant "Listen to this!" read-alouds. All three of my children have spent significant time with this book, with my youngest two expressing their own amazement at the pictures and my oldest getting just as excited as his mom by the interesting facts.
Okay, remember how I said that I was not so much a science-oriented gal? Well, please keep that in mind as I try to describe The Big Idea Science Book, because I have a feeling that my limited understanding is going to be pretty darn obvious. Comprehensive is the first word that comes to mind to describe this book that has quickly become my husband's favorite book to browse. Starting with the premise of "24 Big Ideas of Science," the three sections of the book present information about life science, earth science and physical science, with an easy reference back to the specific "Big Ideas" that are included on each two page spread. The topics introduced are so extremely wide ranging and diverse it seems silly to only mention a few, but it should come as no surprise that the animal and insect sections interested me, and I was impressed with the depth of information provided. DK recommends this book for ages 8-17, but I'm pretty sure that we're not the only parents who would be just as eager to have a turn with it!
DK absolutely knows science, and they are generously offering a copy of each of these science books- I'm a Scientist: Kitchen, Nature Explorer, and The Big Idea Science Book– to one lucky winner. You can enter by leaving a comment here (U.S. residents only, please), and we'll announce our winner on 8/30.
The winners of our last book giveaway for the novel Long Division are #10 Carolyn and #15 Annette W.

The giveaway for the School Days memory book is still open, and check out 5 Minutes for Books today for a special back to school giveaway including a $50 gift card and a Scholastic Children's Dictionary.
Disclosure: I received a copy of each of these books for review purposes.
When book blogger Dawn's not catching bugs with the kids or reading about them in books, she can often be found blogging at my thoughts exactly.