This post may contain affiliate links. Read my disclosure policy here.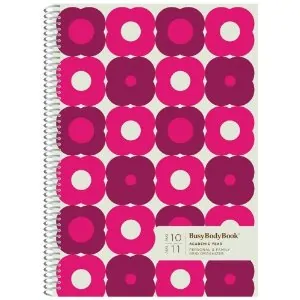 Whether your kids start school next week or next month, it's definitely "Back-to-School" season. This is the time of year I begin to cling to what's left of summer downtime, while simultaneously thinking about everything we need to buy, and everything we need to do to get ready.
I'm still a real hold-in-my-hands planner user — no e-calendars for me! and fortunately I've just gotten my new BusyBodyBook planner, so I feel as if I'm starting over with another chance to get organized (You can win your own BusyBodyBook. Check out my review over at 5 Minutes for Books).
Another area that I'm hoping to start fresh is record-and memory-keeping. I take pictures, but most of them live on my harddrive, not in frames where we can look at them and enjoy them or albums to preserve for the future. I save report cards and other special works, but they are just saved in folders, not kept in any special place.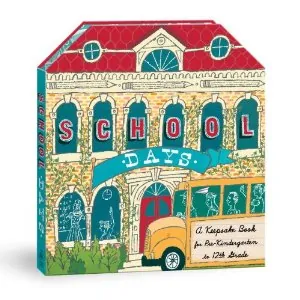 I love the new School Days: A Keepsake Book for Pre-Kindergarten to 12th Grade from Potter Style.
One thing that is cool is that it's set up for kids and parents to do together. There are about 3 pages and an envelope within the spiral bound book for each school year.
The first page is a snapshot of the year. There's a place to put the child's photo, and stats including school name, teachers, and a few lines for parents' notes about the year. There's a place at the bottom for "My Signature" which is a fun feature. I know that whenever I see my 11-year-old scrawl inside a book, or my 15-year-old signature on a paper it brings back major memories.
The second page is written from the child's point of view. For the elementary years, it includes a scorecard for 4 different subjects, my friends, best thing about this year, what I'm good at, and when I grow up. The secondary years get a little more "real" adding hobbies and activities, this was a big bummer, and summer plans (instead of what I want to be when I grow up).
The third page is a pocket, with suggestions of unique items to include which will show their their growth: sample artwork, awards, note to my future self, a piece of string as long as I am tall, tracing of my hand, a school nametag, a newspaper headline or story, and of course a report card. The secondary years add a note or email from a good friend and replace nametag with school ID.
The back of the pocket is lined, adding another spot for some journaling. The pocket flaps and closes to keep everything secure.
Ideally it's something that you would do year by year (and at least with Kyle, who is going into first grade, I can start right away), but you could definitely go back a few years to recreate the entries, even cutting and pasting their signature from another paper.

Would you like to give this School Days Journal a try? I have one copy to give away to one of you (U.S. residents only). Just leave a comment below. We'll announce the winner in our August 23 column.
The novel Long Division is still open for more entries.

The winners of Friendship for Grownups are #10 Beth, #20 tennille, #6 Elizabeth. You should have received an email from me asking for your address.

Disclosure: I received a School Days journal for review purposes.