This post may contain affiliate links. Read my disclosure policy here.
Hey Ladies, this is Amber Strocel here…
Back-to-school time is coming up fast. This is a big year for my family, because my oldest child Hannah is heading off to kindergarten. They grow up so fast!
With my own daughter heading off to school, school lunches are on my mind. When I was a kid the food my parents sent could bring joy, sorrow or anger. I frequently felt jealous as I surveyed my classmates' lunches. And now that I am about to be the one packing the lunches, I feel a little lost. So I turned to HealthCastle.com, and spoke with registered dietitian Gloria Tsang.

Gloria believes that in order for nutrition to have a positive impact on people, it needs to be fun and practical. She founded HealthCastle.com as a hobby site in 1997, when a family member was diagnosed with cancer. Since then, the HealthCastle Nutrition community has grown into a robust nutrition resource library. Gloria is also a mom. She sounded like just the person to help me navigate the school lunch minefield.
Amber: What do you think is the most important thing for parents to think about when they're packing a school lunch?
Gloria: You can find some great healthy lunch ideas and articles on our site. And remember that it has to be fun and appealing. It can look really good on paper in terms of nutrition, but it only counts when the kids actually eat it.
Amber: My own daughter often says that all the other kids at preschool get more treats. How can parents deal with lunchbox peer pressure and encourage their own children to eat healthy foods?
Gloria: Teaching about treats should start young. It is very difficult to change old habits. I'd encourage establishing an agreed frequency with your child – let's say one treat a day – and stick to it. For me, my daughter and I eat our daily treats together mid afternoon. She knows she doesn't eat treats at any other time of the day during week days. I also caution you not to label a food "bad", simply call a treat a "once-a-week" treat, for example.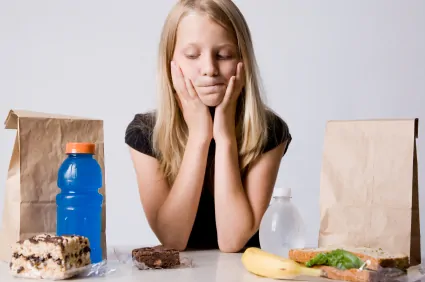 Amber: What foods do you really think do not belong in a school lunch?
Gloria: For a school lunch program, I would say fries and soda. For a packed lunch, I would say potato chips and soda.
Amber: How do you encourage healthy eating, if children are eating a hot lunch at school?
Gloria: Kids eat whatever the school provides. So it's important to involve kids when choosing their lunch choices if you have advance selection. If you don't have advance selection, it's very important for the parents to be involved in what the school serves and how the lunch is prepared.
I really enjoyed poking around HealthCastle.com, and speaking with Gloria. And I feel a little bit more ready to tackle school lunch from the parent's side.
Tell me – do you have any tips for making school lunches healthy and appealing? I need all the input I can get!
Written by 5 Minutes for Mom Contributing Editor, Amber Strocel. Check out her blog, Strocel.com.