This post may contain affiliate links. Read my disclosure policy here.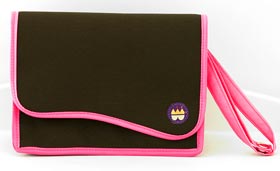 It's about the essentials.
When you trim it all down, sometimes all you really need are diapers, wipes and maybe some cream. And you need them within a hand's reach.
My Royal Heinie Diaper Purse Bag is the stylish solution to keep those essential items organized and at your side whenever and wherever you need them.
Keep your Royal Heinie Diaper Purse Bag conveniently inside your favorite diaper bag and pull it out when you're going out on a quick trip and you just need the basics. It's a great way to keep your diaper changing supplies together when using your larger fully stocked diaper bag, and yet allows you to quickly trim down.
The adjustable strap makes it perfect for strapping to your stroller, carrying it on your wrist or over your shoulder.

My Royal Heinie Diaper Purse Bag is just one of the fantastic products offered at Good For The Kids.
This wonderful Mom-Owned shop that has all you need to "nurture, engage and decorate".
And they have offered to send one of you your own My Royal Heinie Diaper Purse Bag or a store gift certificate for an equivalent value.
So hop over to their store and browse around. Then leave a comment here and let us know if you'd like to be entered in the draw. We'll announce the winner on Tuesday, Nov 6th. (US shipping addresses only.)