This post may contain affiliate links. Read my disclosure policy here.
This is review one of two. For the other one, click here.
ScreamFree Parenting by Hal Edward Runkel is a unique parenting book (or revolutionary, as he describes it in his subtitle). Lest you think that you don't need this book, because yelling at your kids isn't something that challenges you, the concept of "screaming" is a pretty broad one–including actual screaming, disconnecting, and overcompensating. So, even if you interact with your children in a calm way, you might still need a little mentoring in being ScreamFree, which Runkel defines as
taking hold of your own emotional responses no matter how anyone else chooses to behave; learning to focus on yourself and take care of yourself for the world's benefit.
He begins the book by telling the reader to take what you wish from the book: "You do not have to accept all that I say in order to enjoy the types of relationships you crave or become the type of parent you desire to be." Yes, he believes in the principles that he's teaching, but what a refreshing change from many of the parenting books that insist that you follow each dictum to the letter in order to have a successful family.
For some of us (I say, raising my hand guiltily) the lack of emotional control is where we most need help in relating to our families. For others, perhaps it's being forced to admit that if Momma ain't happy, ain't nobody happy. He encourages parents that we must take care of our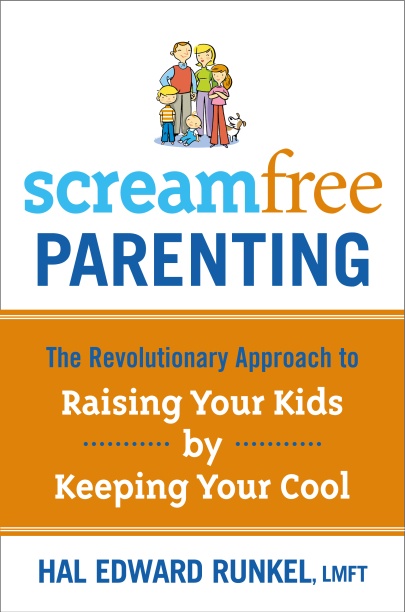 selves in order to parent our children with the proper perspective and level of commitment that it takes to do so well. As he so rightly observes, "Parenting is not about children, it's about parents." He fills us in on the definition of a true show of love, being not I love you for your benefit, or I love you for my benefit (as many parents do), but I love me for your benefit.
I found the chapter on labeling to be quite helpful (humorously titled, "You are not a prophet (and neither is Grandma)." Not only does Runkel advise parents not to label their children (You are a Math wiz! or You are always so creative), but he tells you how to better express yourself–use "sometimes" or "can be" instead of always in order to allow room for a child to change instead of assigning them a certain personality within the family.
The second chapter that I should probably read daily until I can apply the concept is "Empty threats are really broken promises." As a parent my words and actions (or lack of actions) are so critical to my children's success. I know that parenting takes work, and this book perfectly straddles the line of encouragement, practical advise, and sometimes a much-needed kick in the pants!
For more information visit screamfree.com where you can take the ScreamFree Living quiz, and watch video clips and read the first chapter of the book. Leave a comment right here for a chance to win one of five copies of this book.
This giveaway is linked to Bloggy Giveaway's Fall Y'all Giveaway. Click over there for many more giveaways, and come back here every Monday for a new book review and giveaway and the winners of this giveaway