This post may contain affiliate links. Read my disclosure policy here.
Have you been thinking pink this month? In honor of Breast Cancer Awareness month, I've gone pink in my purchasing from bagels to kitchen sponges to potholders. So many companies have created special products or packaging to show their support of breast cancer research in the month of October. But when the month ends later this week, there will be many men and women who are still fighting cancer.
Michelle Rapkin has written a great book called Any Day with Hair is a Good Hair Day. The subtitle further explains the book: How to get through cancer and get on with your life (Trust me, I've been there).
I personally have not been there, but Ms. Rapkin's book would help someone undergoing treatment (and though it's from a woman's perspective, the book would be useful to a man as well). She addresses issues with realistic expectations and advice, te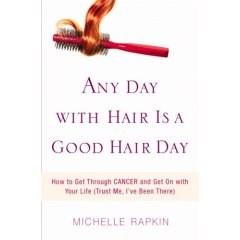 mpered with a bit of humor:
how and why to let people help
dealing with visitors
coping with weight gain or weight loss
helps for getting through treatment
pain management
interacting with the doctors
Planet Cancer vs. Earth
letting yourself off the hook
and of course–the hair issue
We have a copy from the publisher to give away. This would be a great book to read if you have a close friend or family member currently battling cancer, but I would really like this book to go to at a reader who really needs it, or has a friend who does, so if that's the case, let me know in the comments.
This contest is linked to Bloggy Giveaways Fall Y'all Giveaway. Click over for more giveaways all over the blogosphere!
The winners of last week's books are:

Little Black Book of Style by Nina Garcia:

#48 Suzanne, #2 Erin Read, #33 Christy, #54 Wendy, #83 Lib

The Dead Whisper On by T.L. Hines

#13 Jenn in AZ

If you didn't win, but want to buy, you can show your support by purchasing through the links.