This post may contain affiliate links. Read my disclosure policy here.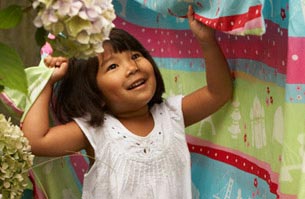 Kukunest can transform your children's bedrooms into places of wonder and adventure that match the creativity bubbling inside them.
Laura and Teri, the moms behind Kukunest, dreamed of creating a line of children's bedding "embodying a contemporary aesthetic that is visually arresting, colorful and eclectic and above all, meant to fuel children's imaginations."
Their dream has come to life with their uniquely modern and whimsical designs of children's bedding and wall art.
As well as being beautifully designed, Kukunest bedding is crafted with the highest quality and environmentally friendly materials.
All bedding is soft, 200 thread count cotton percale and is made to Öko-tex environmental standards. Öko-Tex is a European certification process which ensures that certified textiles do not contain chemicals harmful to human health. It's good for the environment and for your child, too.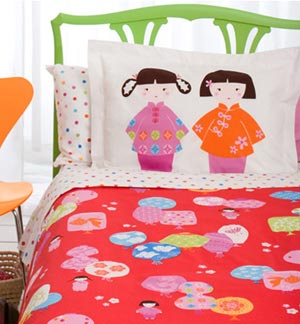 You'll also love to hear that this company takes their pledge to the environment very seriously. Not only have they ensured their products are Öko-tex certified which means there are no negative effects from the manufacturing process, but they also are dedicated to reducing the amount of packaging used.
Personally I find it so refreshing to hear that a company does not require unnecessary shrink wrapping and excess packaging with polyvinyl wrapping. They use minimal packaging that is composed of recycled paper or reusable materials.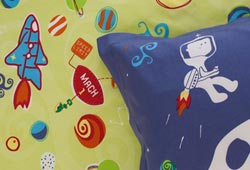 With fantastic patterns for boys and girls, in sizes for twin, full and toddler beds, you're sure to find the perfect designs for your children.
Browse through their site now and pick out your favorite design, because you may be the lucky reader who gets a set of bedding for free!
Yes, Kukunest is generously offering one of you your choice of a bedding set. So, take a look and start dreaming of your child's new room. Then leave a comment here and let us know if you'd like to be entered. It would also be so very nice of you to share a little link love with this Mom-Owned business by linking to either this post and/or their site http://www.kukunest.com on your own blog if you have one.
(We do have to limit to US shipping addresses, but Canadians you can enter if you live close enough to the border to pick it up or if you have a friend in the US who can forward it on to you.)
We'll announce the random winner on Tuesday, Oct 23rd. Best of luck to you!