This post may contain affiliate links. Read my disclosure policy here.
When I attended mom and baby groups during my maternity leave, the same question always came up: "So, are you going back to work?" Returning to work or staying home is a hot-button issue for moms, and it's not an easy decision to make. We may love our jobs and we may relish the grown-up time. But leaving your little one can be hard. Finding good childcare can be hard and expensive. A decision that seemed very clear when you were pregnant can feel much less clear when you have a baby in your arms.
I have two children, so I have made this decision twice. After my first maternity leave I returned to work. A flexible work schedule, including two days a week from home, made it a little easier. All the same, I felt pulled in two very different directions. I wanted to be a good employee, but I felt like I wasn't as dedicated to my job as in my pre-baby days. And of course I wanted to be a good mom, but sometimes I felt my child was taking a back seat to my employer. Neither my work nor my family got my full, undivided attention.
When I was expecting my second child, 3 1/2 years after my first was born, I fully expected to do the same thing. But right around the time my son was born in August of 2008, the whole economy fell apart. Tens of thousands of people were laid off, and I ended up being one of them. Towards the end of my maternity leave I got a phone call letting me know that there wouldn't be a job to go back to.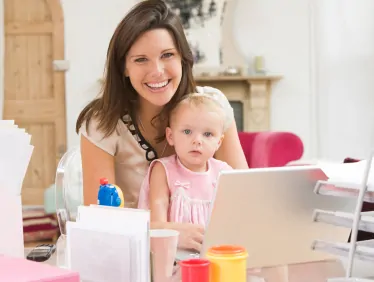 Being laid off forces you to take stock, and that's what I did. I knew I didn't want to enter such a tough job market. I also knew that it would be very hard to find the same kind of job flexibility with a brand new employer. And having one child already, I knew how quickly kids grow. I decided to extend my maternity leave indefinitely and stay home for a while.
Deciding to stay home was not easy for me. I am an engineer, and I earned slightly more than my husband. Losing my income meant a big lifestyle shift for us. It also changed my identity. I hesitated when someone I just met asked me what I did. I worried that others wouldn't value me if I was 'just' a mom. Even so, I was very lucky to be able to make this choice. It is not possible for every family. I believe that one day I will look back on this time fondly, and I don't take a second of it for granted.
In the 5 1/2 years since my first child was born, I have done it all. I have worked from home, and outside of the home. I have stayed home and I have done small freelancing jobs that I fit around my children's schedules. I have learned that there is no single right answer. There are upsides and downsides to every choice you make, and the best you can do is find the upsides and downsides that work for you. I have also learned that no matter what, you will always be your kids' mom. Working or not, nothing can change that.
Have you made the decision to leave the working world, temporarily or permanently, to spend time with your children? How did you make that decision? I would love to hear from you!