This post may contain affiliate links. Read my disclosure policy here.
Little Girls and Barbies…
Fingers combing, clothes changing, stories telling…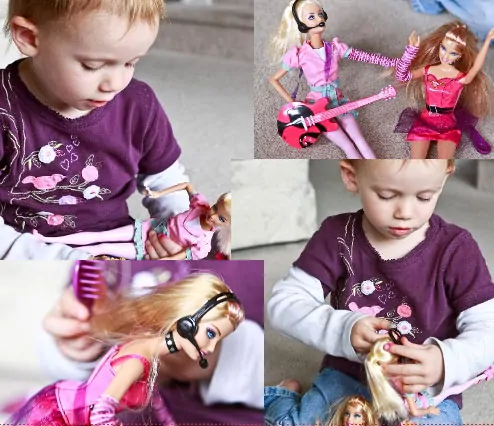 Play Time
I love to watch my daughter play with dolls. I love to see her role play and story tell. I love to see her little fingers and her growing imagination at work.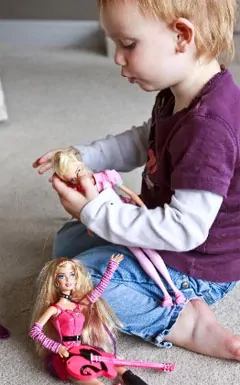 The other day, when a package arrived with some review samples of the new Barbie® I Can Be…™ line, Olivia squealed with delight and then plunked down on the floor and started to play.
The two dolls Olivia "reviewed" were the new Barbie® I Can Be…™ Pet Vet and the Barbie® I Can Be…™ Rock Star. Both dressed in pink of course.
Olivia combed their hair. (Actually even I combed Barbie's hair — there is something relaxing about combing Barbie's hair…)
She made them "talk" and interact. The Veterinarian Barbie tended to the little dog that accompanied the Barbie, giving the puppy shots and a check up. The Rock Star Barbie played her guitar and used her microphone headset.
And then Olivia reinvented them. Who says a vet can't ALSO be a rock star, right? Toddler fingers tugged at the tiny clothes, changing up the Barbie's looks. (Because changing her clothes is as important as combing Barbie's hair!)
Barbie as a Role Model?
I hadn't really thought much about the role Barbie plays in a girl's interpretation of what careers a woman can pursue. To be honest, as an adult I was always a bit ticked about her unrealistic body shape.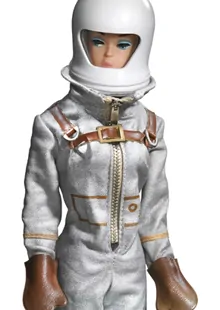 But when I read about all the different careers and roles Barbie has played over the years — Barbie has had 125 careers! — I was pleased to see that Barbie has been fighting the woman's liberation movement in her own fashionable way!
"For more than 50 years Barbie has served as a reflection of fashion, culture and aspiration to girls of all ages. Barbie inspires girls to try on different careers, encouraging them to play out their dreams and explore the world and all of its possibilities," said Stephanie Cota, Senior Vice President, Barbie Marketing. "We believe role-playing with Barbie leads to real life opportunities and are very proud to partner with organizations who continue to inspire girls and women with the belief and confidence that they can do anything."
Yes, Barbie has been getting girls to dream brand new dreams…
In the 1960's, Astronaut Barbie went to space four years before man walked on the moon.
In the 80s, she took to the boardroom as "Day to Night™" CEO Barbie®, just as women began to break into the C-suite
In the 90s, she ran for President, before any female candidate ever made it onto the presidential ballot.
In 2010, Barbie® doll continues to take on aspirational and culturally relevant careers with the introduction of I Can Be™… a Rock Star, Pet Vet, Newborn Baby Doctor, Dentist, Race Car Driver, Babysitter, Snowboarder, Ballroom Dancer, Preschool Teacher, Ballerina and Pizza Chef.
Barbie® "I Can Be™…"
To celebrating her 125th career this year, Barbie kicked off 2010 with a global campaign to further inspire girls by partnering with The White House Project, Take Our Daughters and Sons to Work Foundation and her list of the "10 Women to Watch in 2010."
As a part of the initiative, the women from the list were paired with a girl – selected via contest write-in's on Barbie.com – to be mentored in the environment of the mentee. Rachel Roy, fashion designer, mentored a girl at a show room and showed her how she makes clothes, while Olympic snowboarder Gretchen Bleiler took a girl on the slopes for one-on-one lessons.