This post may contain affiliate links. Read my disclosure policy here.
Even though the calendar doesn't officially turn to summer for another week or so, for most of us, Summer is here. School is out (or almost out), the weather is warm, and our thoughts are turned to how to keep our kids busy, engaged, and at least for me — away from relying solely on the TV and other electronic pursuits for fun!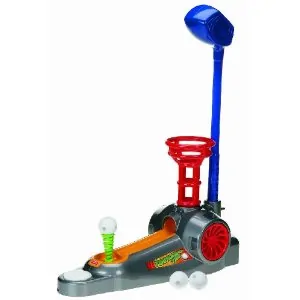 Since my kids are almost 6 years apart in age, I can't just send them outside to play together. They have different interests, so if I want my 6-year-old son to play outside, I need to find something that will hold his interest, and at least some items that he can play by himself (I love to take the opportunity to read on the deck while the kids are outside. What else do you expect from a book blogger? People wonder how I read so much, and that's one way!).
He's on the upper targeted age range for the Fisher-Price Tornado Tee golf, but he enjoys it. For younger kids, there is a stationary tee that you can use instead of the tornado air tee. Either way will help kids develop hand-eye coordination needed for sports and other activities. How much does he like it? Let him tell you and show you in his own words (and believe me, these were all his own words):
What really appeals to me as a mom, is that everything has a place to go in the base unit: the tee, the club, and the balls all stash away so that they all stay together.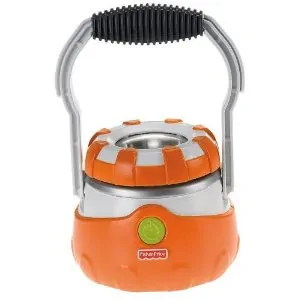 What is it with kids and flashlights? If you don't know what I'm talking about, give your preschooler (on up to very very old kid), a flashlight, indoors or out, and watch how much fun they have. The Fisher-Price Kid-Tough Explorers 2-in-1 Lantern is part of their "Kid-Tough" line that is meant to withstand the special treatment that toddlers and preschoolers inflict on their toys. This one can be used as a lantern or as a spotlight (a super-cool flashlight). If you have a camping trip in your future, think of how much your child would love to have their own lantern/light.
When I received the Matchbox Sky Busters Aircraft Carrier Playset to try out, I honestly wondered how much play value my recently-turned 6-year-old son would get out of it. It seemed so simple. What would he do with it? Well, thankfully I was wrong. He loves this thing! What does he do? He uses his imagination. The airplane takes off and lands (with the requisite noises that planes need to make), he shoots with the missile launcher. In other words, he plays. How foolish of me to forget that's what kids should be able to do. They don't need to be entertained. They can entertain themselves. The set comes with one airplane, but he likes it so much that I bought him a helicopter to go with it as well.

Another thumbs up from mom — it's portable. The airplane (and the command tower and missile launcher) store inside, and there's even a handle to carry it all with. Perfect to take on the go, whether to dinner at grandma's house or even to enjoy in the car.
One of you (U.S. residents only) can win all three of these fun summer toys. Leave a comment telling me which one appeals to you most, and if your comment is randomly selected, you'll receive all 3 items!
We'll announce the winner on June 26.
Thanks to Fisher-Price for providing me with review samples and hosting the giveaway.