This post may contain affiliate links. Read my disclosure policy here.
When I hear the phrase "traveling with kids", it makes me wince.
I picture tired, bored, whining kids sounding out the familiar "Are we there yet?"
Maybe it's because that image sums up most of my childhood memories of traveling.
But luckily these days we've got smart moms like Linda from www.FamilyTravelGear.com thinking ahead for us. Her store is all about taking the noisy bumps out of those road trips and even air trips, or train trips or whatever type of trip you can dream up.
The site even includes a section of free travel check lists to help you ensure you don't set off without your essentials.
As I browse through the store, I am amazed by all the brilliant product ideas.
The website is organized into helpful categories such as "Who's Going", "What Kind of Trip", "Products You Need", and "Sweet Deals". For example, if you're planning a plane trip, you can check out their section on Plane Travel. And if you're traveling with a baby, you can jump directly to their Babies section.
FamilyTravelGear.com generously sent us a couple items to test out, and a lucky one of you is going to also get the same two items.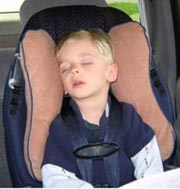 The first is the Toddler Coddler.
Toddler Coddler is the safe, comfortable way to allow children to sleep in car seats, booster seats, or strollers by providing head, neck and lateral support. It's great for cars, planes, trains, buses — even umbrella strollers!
I had seen and used baby neck support pillows for Julia when she was an infant, but I had yet to see a head support product that is designed for children over 1 year old.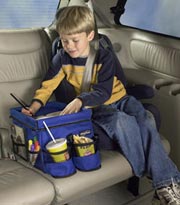 The second is the Kids Car Organizer Compact.
This organizer is the perfect solution for managing car clutter and keeping kids occupied so you're less likely to spend the drive listening to "Are we there yet?"
End backseat boredom — keep toys, snacks, music, movies & travel games handy
Eliminate backseat chaos — organize snacks, travel games, books & gear in this kids backseat organizer
Makes moving kidstuff to and from the car lots easier
We'd love to hear your traveling with kids stories… leave us a comment and tell us all about your adventures.
Do you find your kids are better or worse behaved when traveling than you were when you were a kid?
And if you'd like to receive your own Toddler Coddler and Kids Car Organizer, let us know in your comment and we'll add you to the draw. (A $65 dollar value for products and shipping.)
We'll draw the winner on Tuesday, Sept 25th. US shipping addresses only… Canadians you can enter if you live close enough to the border to pick it up, or if you have a friend that could forward it on to you. Also, please remember to add our site to your safe senders list so that you receive our email to find out if you win.
Happy Travels!