This post may contain affiliate links. Read my disclosure policy here.
If you're a woman, chances are you're busy. And if you're also a mom, well then… it's pretty obvious… You're beyond busy.
Life as a mom is always busy, and often times just plain chaotic. (Janice and I live deep in the world of chaos.)
But The Busy Woman, Inc. offers organizing solutions to help us crazy busy women manage the madness.
For over seventeen years, The Busy Woman Inc, has been on a mission to help women organize their lives, starting with their schedule, then moving onto their purse. Based on the simple question, "How can you find everything you need when you need it?" we found the best organizing purse that works with your planner.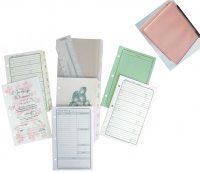 Their signature line The Busy Woman's Daily Planner® is designed by women for women.
They also have a support system in place to help you get started using your organizer.
Susie, the President of Busy Woman Inc., recommends that women start simple with their organizer. You only want to include what you need and not get lost in the clutter of extra tabs and pages.
The Busy Woman's Basics MAUVE Binder Classic is the perfect way to get you started.
And yes, one of you is going to get started with this fantastic classic organizer for free!
Just leave a comment and let us know if you'd like to get your chaos under control with this Busy Woman Organizer.
We'll draw the winner on Tuesday, Sept 25th. US shipping addresses only… Canadians you can enter if you live close enough to the border to pick it up, or if you have a friend that could forward it on to you. Also, please remember to add our site to your safe senders list so that you receive our email to find out if you win.