This post may contain affiliate links. Read my disclosure policy here.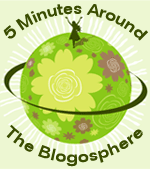 First of all, thank you for all your support and wonderful comments last week. You made this new kid on the block feel very welcomed!
Here is this week's line-up:
CONTESTS & GIVEAWAYS
If you're concerned about how plastic grocery bags are affecting the environment, you may want to think about using reusable bags. The Crunchy Domestic Goddess is currently having a giveaway where you could win one for yourself. All you need to do is write a post about the giveaway on your blog and then sign the Mr.Linky and leave a comment here. For more information, please stop by Crunchy Domestic Goddess before September 26th.
Are you good at coming up with catchy titles? If so, this contest is for you. Lille Pumkin' has just partnered up with a brand new children's clothing line and is looking for a little help in coming up with a name. The person with the winning suggestion will receive a $150 gift certificate to a mystery sponsor's 2008 spring catalog line. For more information about the contest and a description of the new clothing store, stop by Lille Pumkin' Reviews before September 26th.
The Learning Tower is a sturdy platform that allows children to not only observe but to participate in counter-height adult activities. Combine it with the optional Playhouse Kit and you have the makings for some great role playing fun! To win a set of your own (value $200+), just stop by superdumb supervillian before September 30th and tell her in comments where the creator of this product, Carol Gamble, resides.
Now that school is back in session, most of us already have some great stories to tell. Well, Super Fundraiser wants to hear them and as an incentive is giving away 4 Amazon.com gift certificates to various winners. For more information about this writing project, stop by the contest post before October 5th.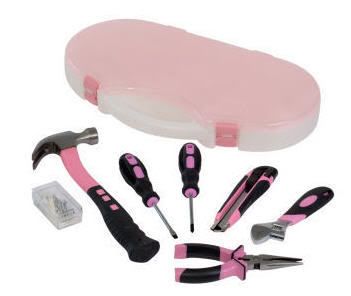 How cool would you look sporting around a pink or blue tool kit by Ladies Tools Online? To enter to win a set of your own, stop by Multi-Tasking Moms and leave a comment saying which color you prefer. Then sign the Mr. Linky and help spread the word! It doesn't mention when the deadline is so hurry on over there!
Who doesn't like free books? Author Jenn Doucette is giving away 8 books in the next 4 weeks. That's 2 books a week! To enter, just email her and you're all set! How easy is that? For a list of available books, stop by Chatter Matters.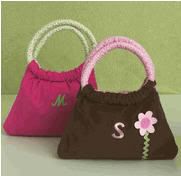 I have two giveaways going on this week. Over at An Island Life, you could win $50 to Warm Biscuit Bedding Company. They have the cutest children's products around. And at An Island Review, I'm giving away Toolbox for New Dads DVD & Fathering Your School-Age Child by Armin Brott. Both will provide you with valuable information especially geared towards new parents.
INTERESTING POSTS
Sue Ellen of As She Prays invites all of you to join her in her daily prayers for family. Each month the group prays from a different book – this month being The Power of the Praying Wife. If you'd like to join her, just let her know. Everyone is welcomed!
Jordan of MamaBlogga has put together a list of the top 40 Parent Blogs on the Internet. Check out who's at #1!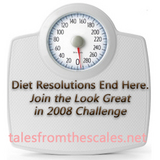 Beth has organized a great event called the Look Great in 2008 Challenge. Basically, participants weigh in each week and post about their current weight situation – gains, losses, triumphs, frustrations. She even has some cool buttons that you can display on your blog. This is currently ongoing but you can join at any time. For more information, stop by Tales from the Scales.
GREAT DEALS
Looking for some FREE books to add to your library? Felicia of HarperCollins and Writers Revealed is generously offering some great titles that you may be interested in reviewing on your blog. All you need to do is email her at Felicia *DOT* Sullivan *AT* harpercollins *DOT* com. Hurry, supplies are limited!
COOL WEBSITES
Hey all you creative bloggers out there! There's a pretty cool new site that was designed in conjunction with Hewlett-Packard that provides great "how to" instructions for arts and crafts projects like printing artwork on fabric, digital scrapbooking, making personalized paper dolls, incorporating artistic flair into everyday digital photos and much more. The great thing about this is the ability to upload your projects, share them world-wide, and receive comments and feedback from other people in the community. Stop by A Wetpaint Wiki for more information about this cool new service!
Ever wished you could have given your two cents before a product was marketed? After all, you're the one that's going to use it. VocalPoint is a new idea powered by Procter & Gamble and allows Moms with kids (newborn to 19 years) the opportunity to test out new products before it hits the stores. Some of the categories available are consumer products, entertainment, fashion, music, food, and beauty. Their main goal is to generate valuable feedback for their clients through surveys, product sampling and previews of products and services, while building word-of-mouth publicity among Moms. Stop by Vocal Point for more information and/or to sign-up for this cool opportunity.
What do you do with all the books, DVDs, CDs, and video games that your kids outgrow? SwapTree is a new site where you can list the items you'd like to get rid of and get something new (new to you) in exchange. It's totally free to join. Thank you to Lindsay of bitemarks for the tip.
COMMUNITY AWARENESS
Comprehensive Resource for Caregivers and Eldercare – Assist Guide Information Services (AGIS) which is aimed at baby boomers who are now faced with taking care of their aging parents, has launched a unique web service that combines eldercare education with local support resources and a vibrant community to deliver the best possible solutions for adult caregivers and their families.
Teen Drug Use Prevention Resources – The Parent Chronicles project has been developed to help parents bridge the gap between us and our teens so that we can communicate more effectively and be better parents. The three-step process coaches parents on how to get more engaged in their child's world by encouraging them to explore the media their teen uses, from music to videos, and other pop culture influences, such as celebrities and reality TV.
If you would like to have a post on your blog featured in 5 Minutes Around The Blogosphere, please send us an email at features5minutesformom at gmail dot com and we'll see if it can be arranged.
Kailani can be found at An Island Life and An Island Review.