This post may contain affiliate links. Read my disclosure policy here.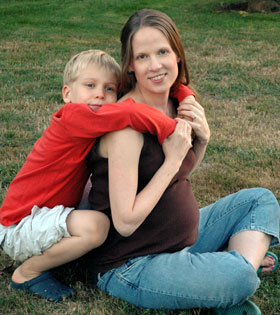 I have been indulging in extra time with my son lately, savoring these last few days of him as my only child.
It has been over five and a half years of only Jackson. Susan's daughter Julia has helped to force Jackson to share the world a bit – but only part time. For the rest of the day, Jackson has remained the main feature in this house.
And so while I spend countless hours this busy September doing the "kindergarten pick-up/drop-off" routine and shuttling Jackson to all his other classes and programs, I am trying to consciously treasure this time with him. I don't have to worry yet about a crying baby, desperately pleading with me to pull over and nurse her. I don't have to tell Jackson to be quiet the baby is sleeping. I don't have to split my time between two. No – right now, for a couple more weeks, Jackson can still be the center of my world.
Tonight, Jackson took full advantage. Somehow sensing that Mommy was not in a hurry to finish stories and end our bedtime chat, he manipulated his weary mom into a marathon conversation that included theology from the perspective of a very imaginative five year old boy. (I wish I had had a tape recorder, because there is no way I could remember and capture all he said. But it was quite entertaining!)
I know we will both be tired tomorrow. I know I should never let him stay up so late. But as my clever little monkey talked, I just kept remembering this tiny baby I brought home from the hospital. I remembered nursing him and praying over him, wondering who he would become and if I would be there to witness it.
I am so excited to meet our little girl. Jackson is too – the other night he leaned over my belly and commanded his little sister, "Break out tonight!" (I think he figures if she kicks enough, she could break out like a chick bursting through her shell.)
But, for these last few days, I am enjoying my time with Jackson, memorizing what it is like to be a mom to just him.